So, I think I finally have some time to catch up on blogging. Not that I have much to blog about, since I barely left the house after we got home from Disney.
Speaking of Disney, I did have a few more photos to post and blog about on our trip home. But, clearly, we made it home, so I thought I'd just skip over that day since I can't remember what I was going to say about it anyway.
The next set of pictures I have are from Halloween night. We decided to go with our friends to our former church that night. The church was having a carnival for the young children, so we all ate at our house, then went to the carnival to let the kids play. Here are our kids before we headed to the church. Sara Madalin was Tinker Bell, Ben was a monkey, and Cruz was Elmo.
Sara Madalin and Cruz are two peas in a pod. They act so much alike. She loved having him around because she finally had someone to play with who could keep up with her.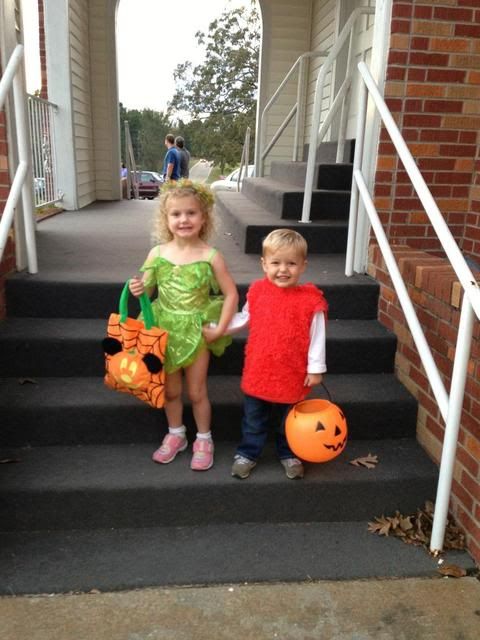 We saw lots of friends at the carnival. We saw Ms. Ann. She loves our girl. She has loved her since she was born. Sara Madalin made sure to get a hug from her before heading to play games. (I was taking pics with my phone. The flash lights up before the photo actually takes. Ms. Ann thought I'd already taken the photo, that's why she's blurry.)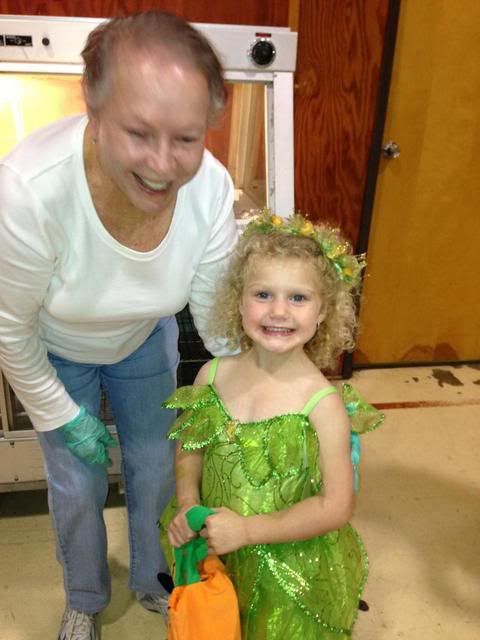 Sara Madalin let Mrs. Cheryl paint balloons on her face. The child can't be still for school or to eat a meal, but she can sit without moving a muscle while someone paints her face. I don't understand it.
While she was getting her face painted, Susie came over to see her. We love some Susie Sojourner. She and her husband have ministered to us in such special ways.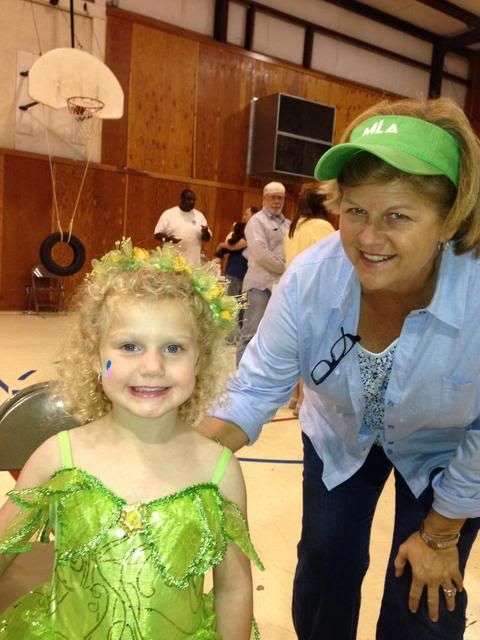 Here's Sara Madalin with her first Sunday school teacher. From the time she started going to Sunday school until we moved to our current church, Ms. Stacey was SM's favorite person. On Sunday mornings when she'd see Ms. Stacey, she was done with me. We love Ms. Stacey and her family.
Of course, we had to take our annual picture with Mr. Malcolm. I joke with him that he's always eating every time I see him. We run into him in restaurants, church - no matter where we see him, he's got something to eat. This time was no exception.
We made a stop in the kitchen to see all the sweet ladies in there. The kitchen committee always loved this girl. The committee is mostly senior adult ladies. Every Sunday, when we were still going to church here, SM and I would go by and see them every Sunday morning. They always liked to see what she was wearing and also to get some kisses from her. So, we stopped in to see them. They all wanted to feed her, especially Ms. Ann. That's their love language. However, our girl is limited in what she can eat. And that night, in the kitchen and Family Life Center, there was an abundance of things SM couldn't have, and very little she could have. But Ms. Ann didn't give up until she found something SM could eat. We finally agreed that she could have some of the Lay's chips that they were putting on the plates with hot dogs they were fixing. When I told Ms. Ann that SM could have that, she fixed that baby a whole plate of chips.
My friend, Jackie, was also in there. She was making cotton candy. SM couldn't have any, but she wanted to watch Mrs. Jackie and help her.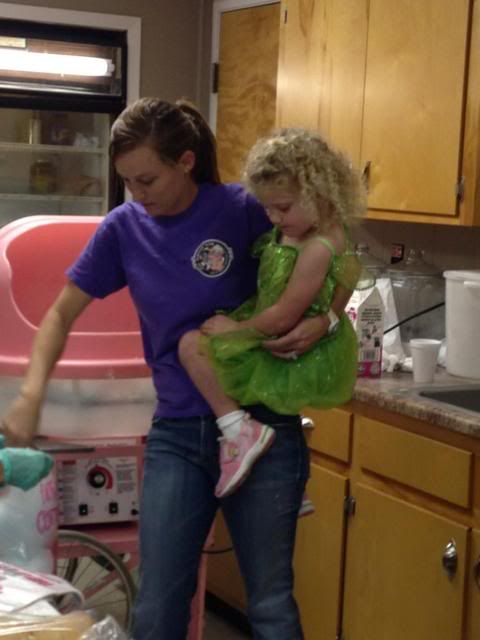 After spending some time inside, we went out to the basketball court where the inflatables were. Sara Madailn and Cruz pretty much spent the rest of the night here. They LOVED it. She would climb to the top of the slide, reach down and grab his hand, and pull him up to where she was. Then, she'd slide down on her belly, and pull him down behind her.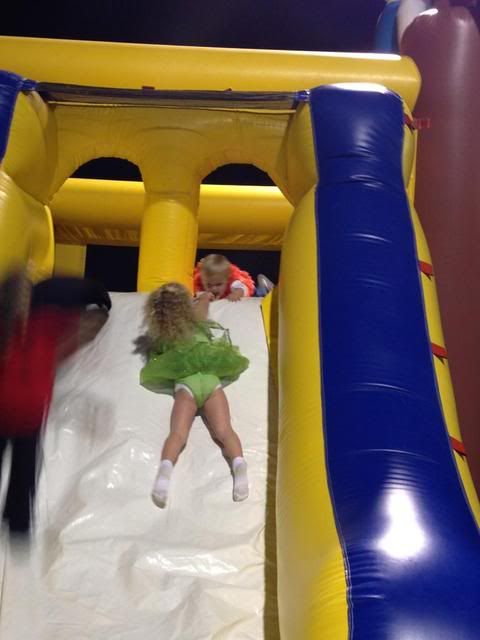 This next photo is very blurry, but it's a picture of two of the most exhausted mommas you'll ever meet. I'll give you two guesses as to why we are so tired.
And if you guessed the names of the two children in this next photo, you would be correct. They wear us out.
After awhile of sliding, I changed SM out of her costume and into some play clothes. After she changed, we saw her good friend, Skyler, out on the basketball court. SM was so happy to see her.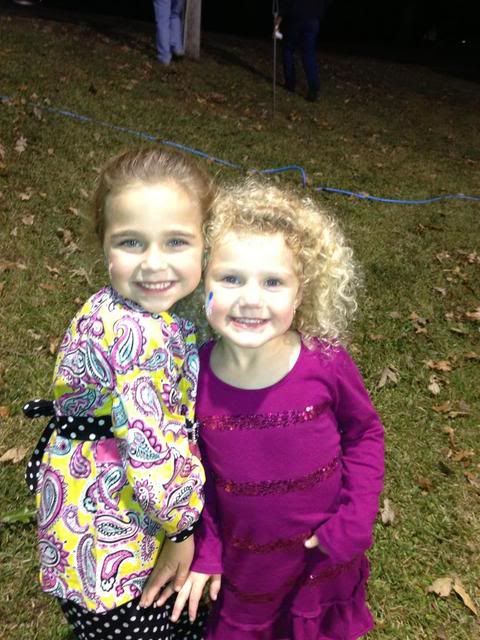 I have a feeling those two are going to break more than a few hearts.
Our last bit of fun for the night was the hay ride. We waited until some of the bigger kids had their turn, then we rode with the little kids. They loved it. And we love seeing Sara Madalin enjoy herself with her little friends.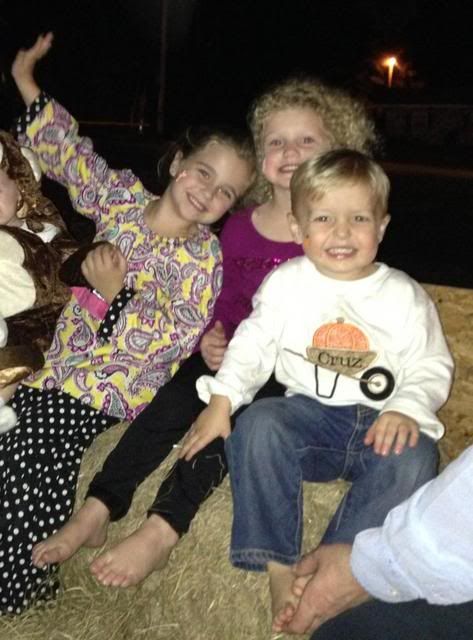 I still can't get over how big these three are. Skyler is 6, Sara Madalin is 4, and Cruz is 2. They should still be lap babies. But they are far from that. All three of them have such energetic, hilarious personalities. They never meet a stranger. They are all beautiful, precious gifts of God. I can't wait to see how God uses them. I pray they'll always be friends and that they continue to have the hearts for God and His people that they do now.
And I pray God gives their parents the energy to keep up with them through it all.