One thing I've always enjoyed doing at Christmas-time is making candy. For the past several years I've gotten on a kick where I make tons of peppermint bark to give out to teachers, teachers' aides, friends, etc. I think it's always nice to give things that are homemade. I also heard Ina Garten (The Barefoot Contessa) say once that she always makes it a rule to give away gifts that can be eaten or used immediately. I don't know why that's a rule she has, but if it's good enough for her, it's good enough for me.
When my mother-in-law was still alive, she made candy at Christmas. A couple times we made it together. One of the candies she made was chocolate covered peanut butter balls. I found a couple simple recipes for this online and thought I'd try it this year. One thing I have, that Mrs. Brown did not have, is a very busy little helper. So, while I was preparing the peanut butter and powdered sugar mixture, I had to give her something to do. That something was to eat a spoon of peanut butter. She was good with that.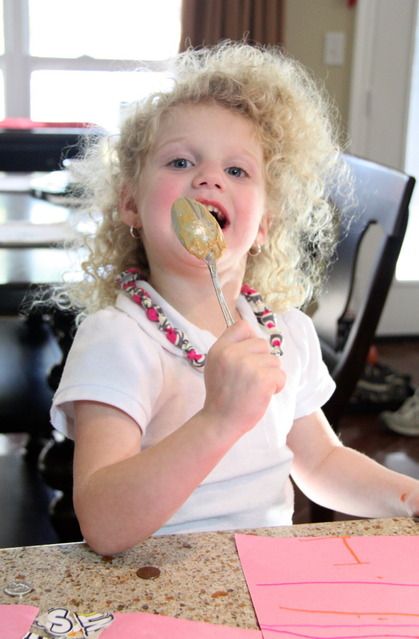 Once I had the mixture prepared and had started dipping out the balls onto wax paper, I let her taste one. Since it was only peanut butter, butter, and powdered sugar, I thought it would be ok.
I'll keep a few without chocolate on them so that she can have some too.
I also tried divinity for the first time. My mom always made this at Christmas when I was growing up. I remember it being something that she made when the weather was a certain way. It had to be sunny, but cooler weather, or something. And I seem to recall it was a particular recipe she used. I don't have that recipe. I found something online that said, "No fail, no cook divinity." Let me just tell you, THAT WAS A LIE! And I'm not talking about the "no cook" part. I think my attempt failed. I've put it in the fridge to set, and I'll know later today if it's ok. When I last checked it, it was just blobs of white sugar. I guess that's just reason enough to try again.
I don't like nuts in my candy. I don't like nuts in brownies either. So, I made a few pieces of divinity without the pecans. They, too, look like blobs of sugar. Just without the pecan on top.
Another thing I wanted to mention was Sara Madalin's piece of jewelry in the pictures above. It's called chewelry. I've mentioned in a few posts about her sensory disorder. One way that she seeks sensory stimulation is through putting things in her mouth. Some babies go through a stage when they are teething where they put things in their mouth to chew. Sara Madalin didn't have a stage where she did that. She did it from the time she could grasp and move something to her mouth, until now. She will pick up most anything and put it in her mouth. It's how she explores. It's also how she relieves anger and stress. If she gets upset, she sometimes bites herself, or her blanket, or almost anything she can get in her mouth.
To help with that sensory need, I found this necklace on etsy. Instead of her putting other things in her mouth, or biting, I'm trying to train her to put the necklace in her mouth. So far, she's doing good with it. I hope it helps her. I know that there are several moms who have children with a similar condition to SM that read our blog. I thought some of you might want to know about her new accessory.