Saturday morning we noticed a stray puppy in our yard. It had a collar, so we knew it belonged to someone, but there was no tag on the collar. It stayed around our yard and in our garage all day. Reagan wouldn't feed it because he knew it would stay if we did. Sara Madalin kept saying, "Yay, we have a new dog!" Her Daddy and I told her we did not.
Sunday, I contacted our neighbors next door to see if they knew anything about him. Our neighbors' daughter said they had seen him and asked around, but couldn't find who he belonged to. She had fed him. It was cold and rainy Sunday night and I felt so bad for the little dog out in it. Sara Madalin told her Daddy to, "Build that poor thing a house." Reagan didn't budge.
When we started to leave Monday morning, and I let the garage door up before we left, in came the dog. This time he had on a doggy sweater. We thought he must have been home and his owners put it on him. We later found out our neighbors' daughter had done it.
Monday afternoon, after Sara Madalin's nap, she went outside to play in the back yard. She wasn't out there long and I heard her squealing and laughing. I went out to check on her and she was playing with the puppy. She ran to me and said, "Mommy, here's our new puppy. I named him Tree Sap."
And that's how Tree Sap came to be part of our family.
Only, Reagan is still in denial about it. So far, he's played at our house every day this week, and I guess our neighbors' daughter is still feeding him. We haven't yet. But if he continues to hang around, I suppose we will.
I took several pictures of her playing with him Monday afternoon, and some video Tuesday afternoon. Here are the pictures from Monday. I haven't uploaded the video yet.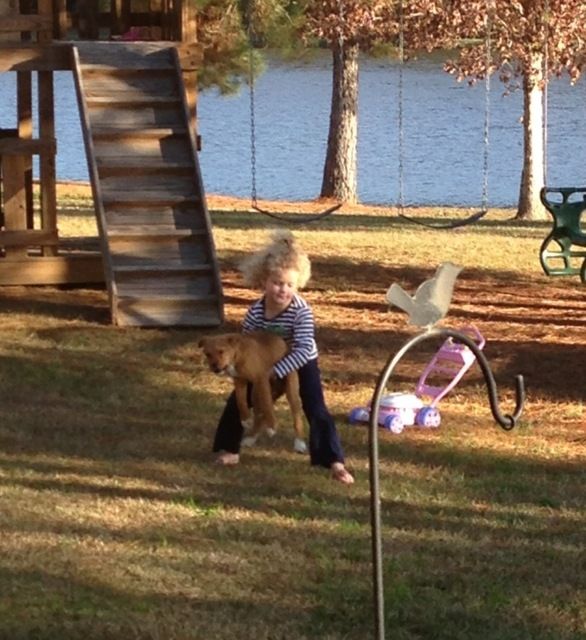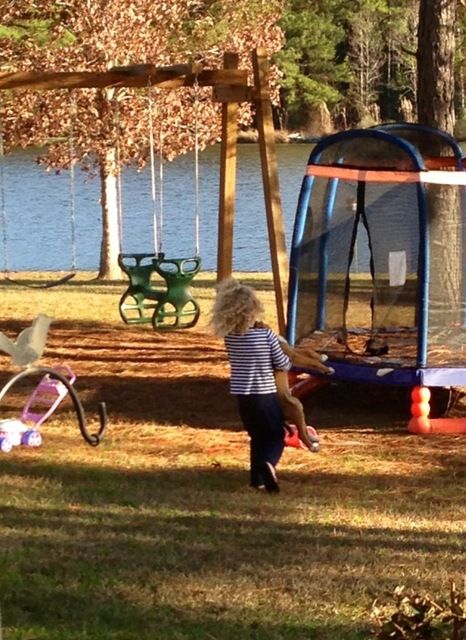 After she'd played with him a while, he began to nip at her. I went inside and got some chew toys we had bought for another dog. SM enjoyed playing with him and the toys.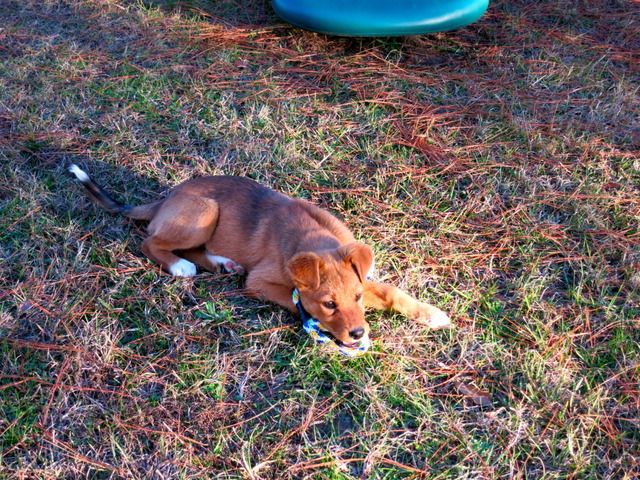 He's a cute little dog. I told her he couldn't come into the house though. Then, Tuesday, while I was home alone, I had some furniture delivered. While the deliverymen were there, the door was open. Before I knew it, Tree Sap was inside and had gotten into Sara Madalin's toys. We (the delivery guy and I) found him at the back door with one of her stuffed animals. The delivery guy laughed when he heard me say, "Tree Sap, get out of here."
She talked about him all the way home from school Tuesday afternoon. When we got home, she ran to the back yard and started calling him, "Tree Sap! Tree Sap, come here." Sure enough, he started running to her. She played for a while. He's gotten a little rough and has broken her skin a couple times with his teeth. So, I told her she needed to leave him alone for a day or two since he is so rough. I'll let you know if he stays around.