Last weekend our nephew, Mitch, married his sweetheart, Mallory. Sara Madalin was one of their flower girls. She was a very beautiful, but very HYPER, flower girl. All she talked about was the cake. She could have cared less about the actual ceremony.
Here we are at the church before the wedding.
Here she is with her SueSue and Mandy. Mandy was a bridesmaid.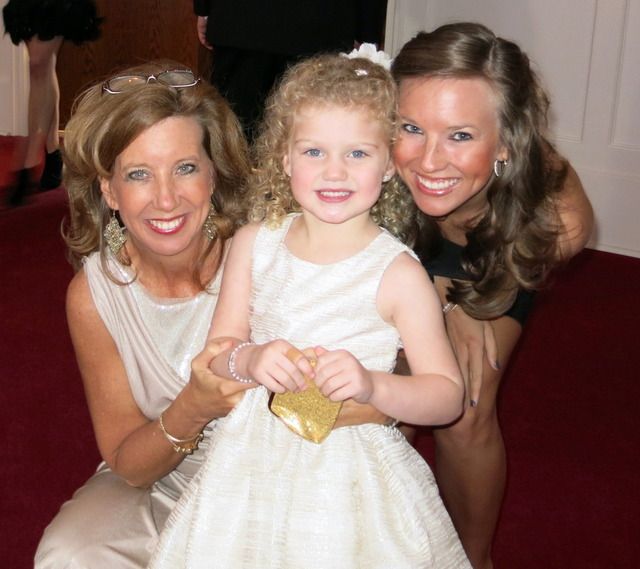 She wanted her picture taken on the "stage." In just a few short "moments" she'll be the one in white walking down the aisle. But, her Daddy doesn't want to talk about it.
Here she is with her Papaw.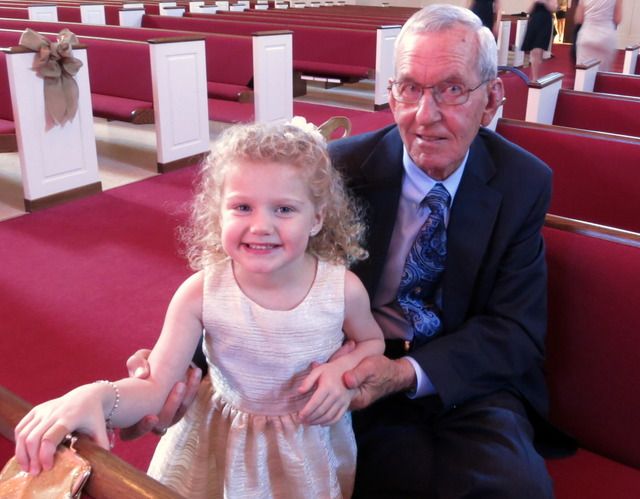 Sara Madalin and the other two flower girls.
The beautiful bride and her flower girls.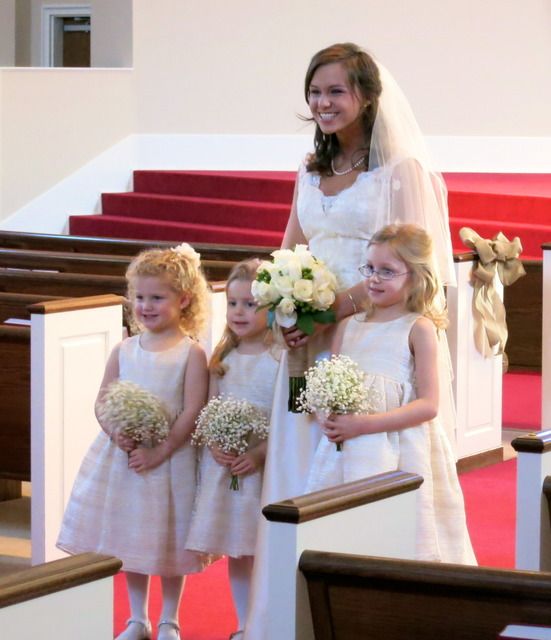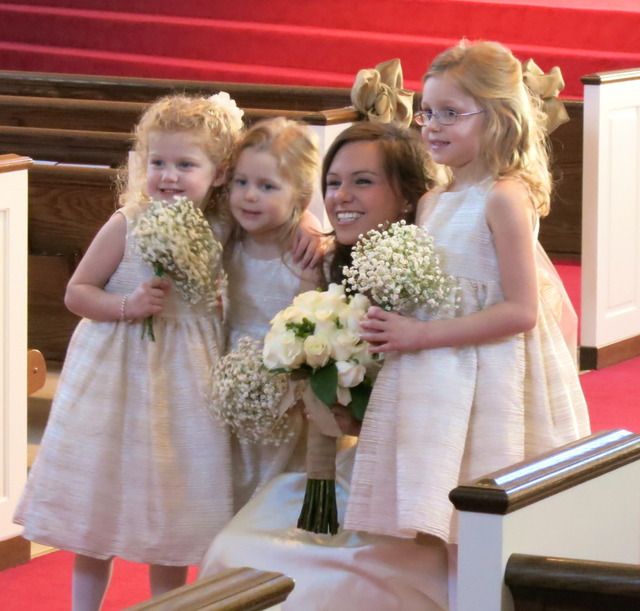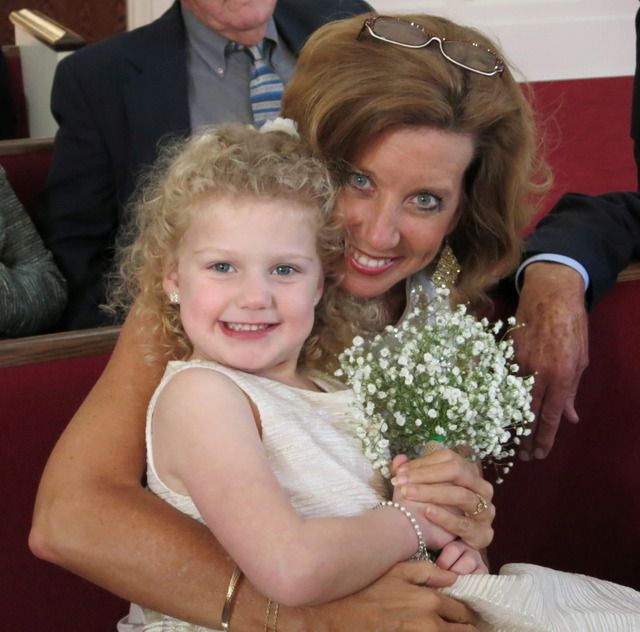 I don't have any pictures of the ceremony. Probably, because I wasn't in there during the ceremony.
We sat on the end of the second row. Sara Madalin and the other flower girls were instructed to walk to the front of the sanctuary and when they got to the front, they were to turn and go sit with their parents. It was a great idea.
Well, the girls walked down the aisle. The other two girls were beside each other in front of SM. She walked behind them, snickering the entire time. When they got to the front, the other girls turned and went to their dad. Sara Madalin, went straight to Mitch. Mallory had given her a note to hand to him. So, he bent down, gave her a kiss, and took the note. Then he pointed her toward us. She came to us, went from one to the other for about 3 minutes, then started talking about cake. She was so loud, some of the bridesmaids heard her and looked at us and grinned. I had brought her a bag with a few snacks, because I knew we'd be there for awhile. She remembered the bag. Then she started asking for a snack. I picked it up, grabbed her hand, then we left the sanctuary. That was the last of the ceremony I saw or heard. We went to the dressing room. She ate her snack, then right before the ceremony was over, we went back inside. She watched them kiss, then watched everyone walk down the aisle and out the back door. When she saw Susan coming, she ran from me to her and out the door with her.
Here she is taking pictures with everyone after the ceremony.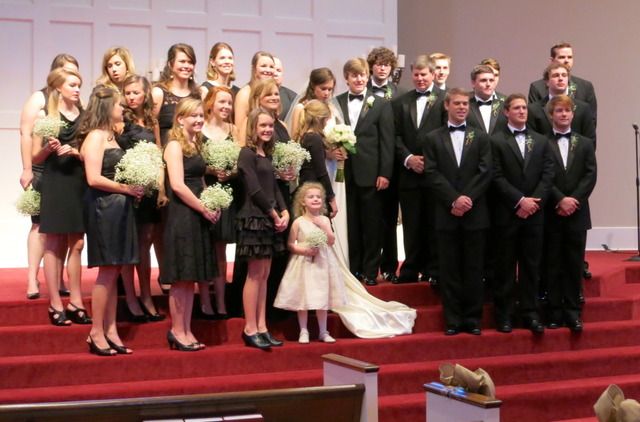 As I said, Sara Madalin talked and talked about the cake. But she also talked about dancing. She thinks those are the only two things that make a wedding real. Well, there was a guy at the reception with a guitar who sang, but no one was really dancing. No one except our girl. She asked Austin, the son of a family friend, to dance with her. And he said yes. So, not only is she bold enough to ask a guy to dance, she's also not afraid to ask one of the best looking guys at the party.
Here's Mitch and another nephew, Jeffery. Jeffery caught the garter.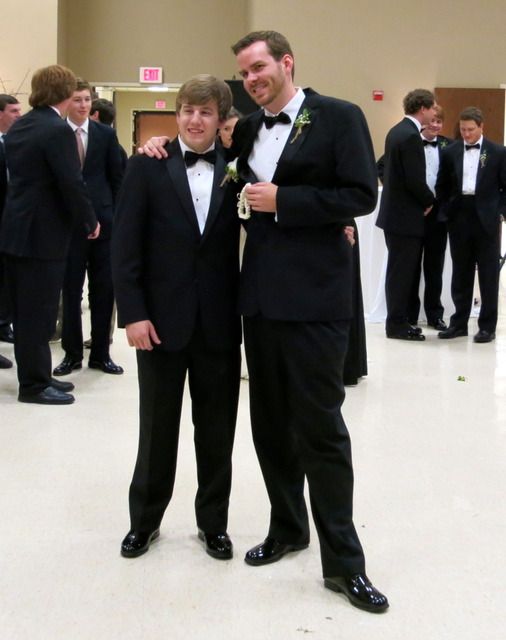 Sara Madalin was very curious about that garter. She saw Mallory put it on in the dressing room. Then, when she saw Jeffery with it, she decided to go investigate. She wanted to know why Mallory had it on her leg. And she wanted to know what Jeffery was going to do with it now that he had it in his possession. She is full of questions.
Sara Madalin finally got a piece of cake. And with that, our exit was not far behind. She was beautiful. She had a great time. But I'm thankful there are no more weddings in our near future.