One of the after-school activities that Sara Madalin has been involved in this year is TOTs. Those letters stand for Teams of Tomorrow. We thought she would enjoy this because she loves anything involving a ball, and we thought basketball would hold her attention long enough for her to learn the basics of the game. She has loved this activity. She enjoys bouncing her little basketball all over the house. Not only did she learn some of the basic skills for basketball, the weekly classes also teach colors, shapes, and other skills that improve fine and gross motor skills. A couple weekends ago, she had the opportunity, along with her teammates, to show off her skills during half-time at the Belhaven men's basketball game.
SueSue came out to support her. SueSue doesn't miss much. We are so thankful for her involvement in SM's life. And Sara Madalin loves her more than words can say.
About 10 minutes before half-time, I walked Sara Madalin downstairs from the gym to meet up with coaches. She was so big. I led her to the hall where her friends were starting to line up. She never even said good-bye to me. She walked down that hall like she was the team captain. And most likely, given her energy, determination, and natural aggression when it comes to playing, she might someday be captain of her basketball team.
At the beginning of half-time, they ran out to the court and made their way to a colored "spot" that was the same color as the bracelet they'd been given. Once they were there, they all started waving to the people in the stands. She was standing right in front of me. It took her about 5 seconds to notice us, and she grinned like she was a little shy and embarrassed. That didn't last long. The shy part anyway.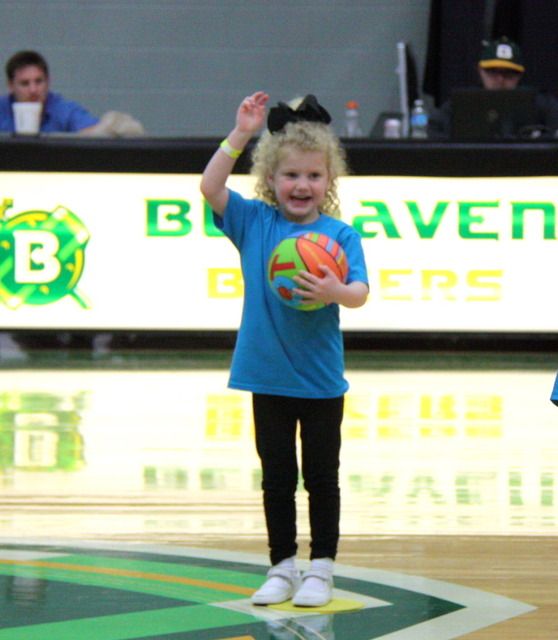 Everything they did was set to music, another of her favorite things. They rolled their balls around their legs.
They sat on their knees and bounced the ball.
They bounced the balls and turned in a circle really quickly.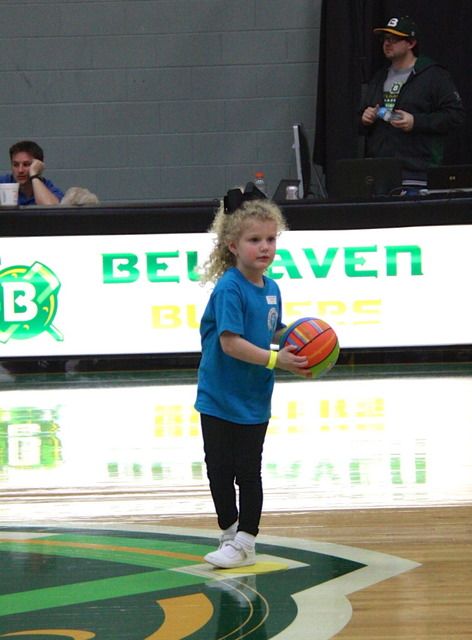 They "danced" with the balls a little.
They sat on the floor and rolled the balls around their body.
They sat on their ball and did some hand movements.
Sara Madalin did everything she was supposed to do and she did it well. She was really concentrating. I think she really likes this activity.
We told her that if she did her best she could have a treat after the game. I had brought one of her organic suckers. As soon as she came back down the hall to where I was waiting for her, the first thing she said was, "Do you have my sucker?"
We were very proud of her and will certainly encourage her to continue with TOTs and basketball in the future. Here we are after her performance.
Maybe one day we'll take a picture like this with her while she's wearing her Lady Raiders, or even Lady Rebels, uniform.