Maybe one day I'll write a really long post about why I am so infrequent with my blogging, as compared to how frequently I was once able to post.
But today is not that day.
Just know that it has almost everything to do with the need of a certain 4-year-old to constantly be engaged, or closely monitored, and less to do with my lack of blogging material. Because, trust me, there is something worth blogging about every day with her around.
For now, I'll try to remember a little about Easter as I share these few pics I snapped that day.
This is our annual Easter family photo. Notice the clear exhaustion exhibited by the two adults, and the bright-eyed excitement shown on the face of the little person. If I could bottle up and sell about 1/3 of her energy, I'd be a very rich woman.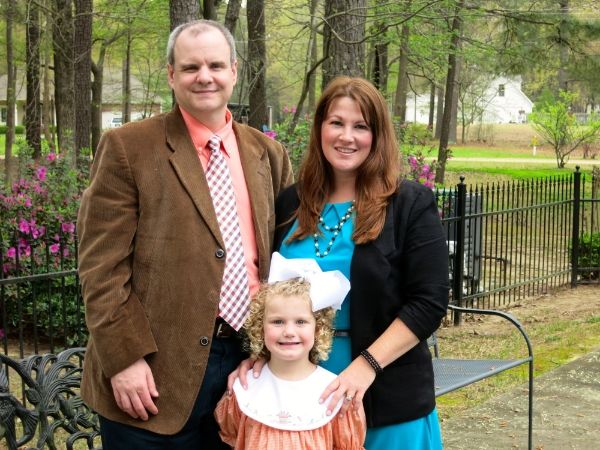 After church on Easter Sunday, we went to eat lunch at SueSue's and hunt eggs with Daphney. It was misting a little after lunch, so we hunted very quickly. We didn't put anything in the plastic eggs this year. They were both a little upset about that. But then they got to eat a bowl full of ice cream and they were ok.
I tried to get a closer shot of the two of them together. Daphney kept moving away from the camera and my (shy) child kept moving closer to it. I don't know what we'll do if SM doesn't come out of her shell soon.
After they hunted eggs we brought them into the kitchen to dye eggs. We had planned to do that first, but because of the rain, it got pushed to the end of the day. We don't usually dye eggs at SueSue's because we hide the plastic eggs. But SueSue thought the girls would enjoy it. And they did.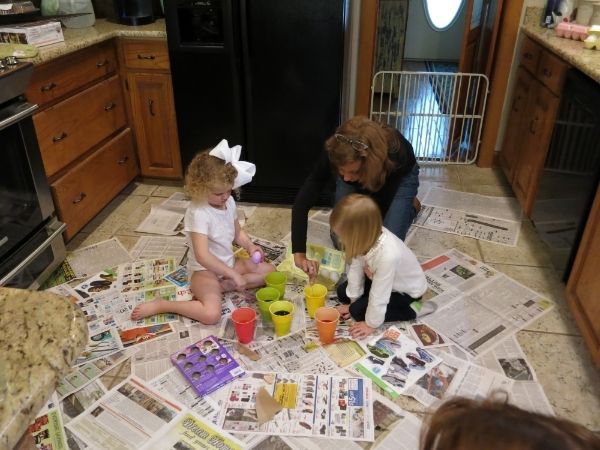 I had not brought Sara Madalin clothes that were suitable for egg-dyeing, so she wore one of Daphney's t-shirts and no pants. So, when she's 16 and sees this picture of her dyeing eggs in her underwear and a t-shirt, we can deal with her feelings of embarrassment then. But on this particular day, as a 4-year-old, she thought nothing of it.