So, our girl turns 5-years-old in a few weeks. Now, last year, I really dropped the ball on party planning because I was incredibly busy with research for my graduate project. We had some balloons and an inflatable jumper, and called it a party. But this year, I am super excited and busy prepping for a party that she and her classmates are going to love. I hope, anyway.
SM is crazy about animals - bugs and snakes specifically. She watches a show on PBS every afternoon about two brothers, the Kratts brothers, who are animal explorers. They "become" animals and live with them in the animal's habitat. It's an animated program, but she always tells me she wants to be one of the brothers so she can turn into the animals. I thought, wouldn't it be perfect to have an animal themed party for her this year? And we can pretend that she and her friends are animal explorers like the Kratts Brothers.
So, I did some checking around and found a guy who formerly worked at our local zoo. He now brings animals to birthday parties for children to learn about them, and TOUCH them. I called him. He said he will bring a couple birds, a ferret, and a couple SNAKES to SM's party! Talk about a girl who will be beyond excited, Sara Madalin will be.
I've been researching ideas for the party - food, decorations, etc. And I stumbled upon this idea for an invitation. However, my budget does not allow for me spend $38 for 8 invitations. Plus, I'm pretty crafty. I figured I could make something similar. So, I did. Here's my version of the invitation, with a few changes.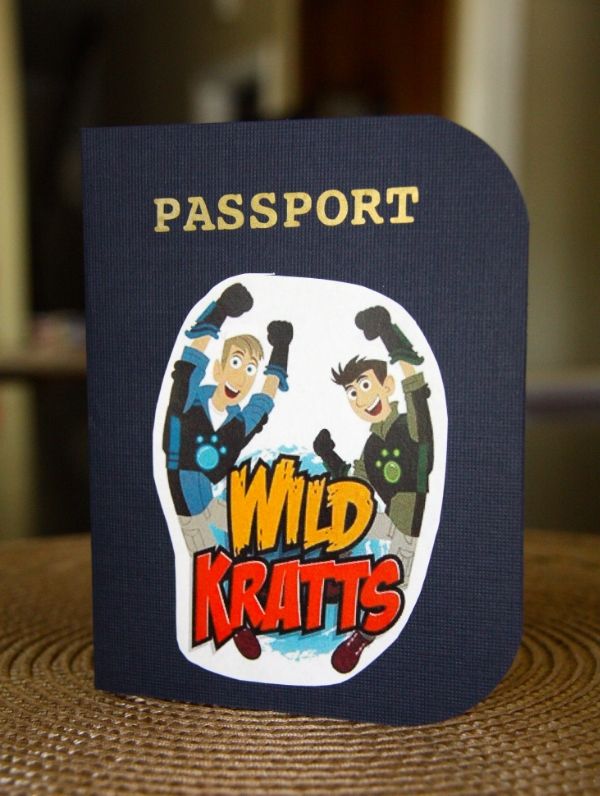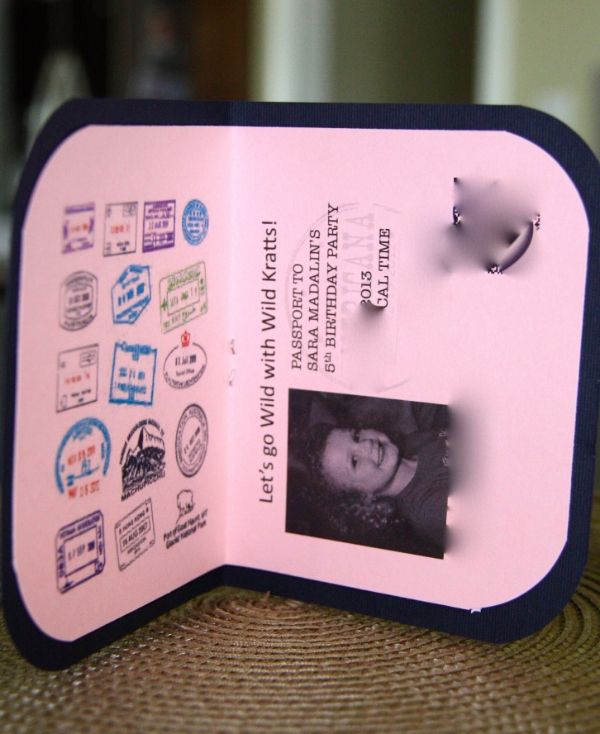 Here's what I used to create this:
Navy blue card stock for the outside

Pink (and light blue) card stock for the inside

A Wild Kratts logo I downloaded and printed on white typing paper

Clip art that looks like stamps made on a passport, again through search and download

"PASSPORT" cut from gold vinyl on my Silhouette

paper cutter

staples

Double sided tape
I designed the inside of the invitation using PowerPoint. I probably could have used some other software, but this was quick and easy. I was able to fit two on each sheet of paper. We included a QR code with directions to our house for guests who've never been before. We printed those and I cut them down to the size I wanted. Then, I cut the navy card stock to the size I wanted and stapled the pink (or light blue) and navy together. Next, I printed the Wild Kratts logo on typing paper, cut it out, and attached it to the navy card stock with double-sided tape. Finally, I cut out PASSPORT on my Silhouette using gold vinyl, then attached that to the front. I think they turned out great.
To mail them, I bought some brown envelopes from Hobby Lobby. I stamped them with a few animal stamps, then hand addressed them.
I have a few other things I'll share in preparation for the party over the next few weeks. I told Reagan I am far more excited about this party than I should be. And I can't wait to see Sara Madalin's face when the animal guy pulls out those snakes. It's going to be WILD!