We hosted Sara Madalin's birthday party at our house Saturday. I had a friend photograph the party and here are a few of the photos that she has gotten to me so far.
At the entrance to our road I made a sign welcoming everyone to the party.
The theme was based on the PBS show, Wild Kratts, that Sara Madalin watches in the afternoon. The hosts of the show explore animals and their habitats. She loves watching and learning about the animals. So, I thought it would be great to have some animals at the party for the children to see and touch. I found a local man who cares for animals and brings them to school and parties. But I didn't tell SM that he was coming. I was so excited to see her reaction when she saw the first animal he pulled from the totes in which he transports the animals.
The first thing we did, before the animal man even arrived, was gather under a tent Reagan set up for us. I had the children sit down and told them that I had planned to have some wild animals for the party, but once they arrived, they had all escaped. Then I asked them to help me find the animals so we could learn about them, just like real animal explorers.
I gave them each an explorer pack. It was basically a black felt bag I had hot glued together, along with a string I had attached for a strap. Inside the bag was a set of binoculars, a small magnifying glass, a keychain compass, and an animal tattoo. I told therm that these were things that they needed to search for animals and insects. They were so excited. We have photos of them all looking through their binoculars. I'll post those pics as soon as I have them from my photographer.
Once they had their explorer packs, we followed the birthday girl to find the animals. I had placed some cardboard animal cutouts in a separate area of the yard, along with several large stuffed animals such as snakes, spiders, monkeys, and alligators. We made our way over to that area and talked about some of the wild animals we found. After about 5 or so minutes over there, I told them I had a friend who knew a lot more about wild animals than I did. I asked them if they wanted to meet my friend and ask him some questions about wild animals. They said they did, so we ran back around to the tent and I introduced them to Mr. Percy King, the snake man.
SM sat in a chair close to Mr. Percy, and all her guests sat on mats inside the tent. Mr. Percy told them he had some animal friends he wanted to introduce to them that day. The first animal he pulled out was a turtle.
SM and her friends were excited to get to hold and touch the turtle.
This next photo is the expression on her face when he pulled out the next animal - a small alligator.
She could not believe she actually got to see a real, live alligator. Then, she got to hold him. Mr. Percy taught her how to hold him properly. Once she had him in her hands, she looked around to make sure everyone saw how brave she was holding that alligator.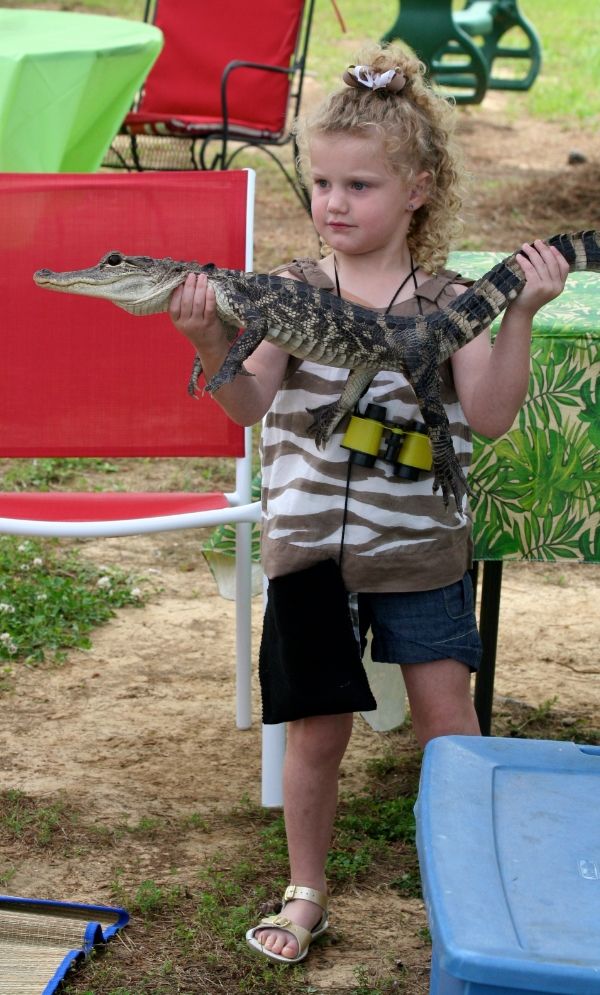 This is Mr. Percy. He was awesome. He once worked for our local zoo and knows a great deal about animals. He now shares that knowledge during private parties with people in our area. He stays pretty busy.
After the gator, how could things get much better? Well, by seeing up close and personal a HUGE boa constrictor for the first time in your life. Here's what SM thought about that when he pulled the snake out of the container in which it was transported.
Our goal is brave. She held that big boa like she did it everyday.
You can see her petting him in the next photo. She wanted to touch his face but couldn't quite get her hand to it.
After SM held him for a minute or two, Mr. Percy carried him around to let others feel and hold him. He draped the snake over me and I tried to convince myself that I was going to be brave. But then, the snake started moving, and he turned his head to face me and started crawling behind my head. I was TERRIFIED. I started begging Reagan to get him off me. Instead, he stood there taking pictures. Mr. Percy laughed and said, "He's just talking to ya." I had my eyes closed. I finally opened my eyes (as seen in the next photo) and asked Mr. Percy to PLEASE get the thing off me. My getting so upset made SM upset. So, Reagan had to calm me and her both down.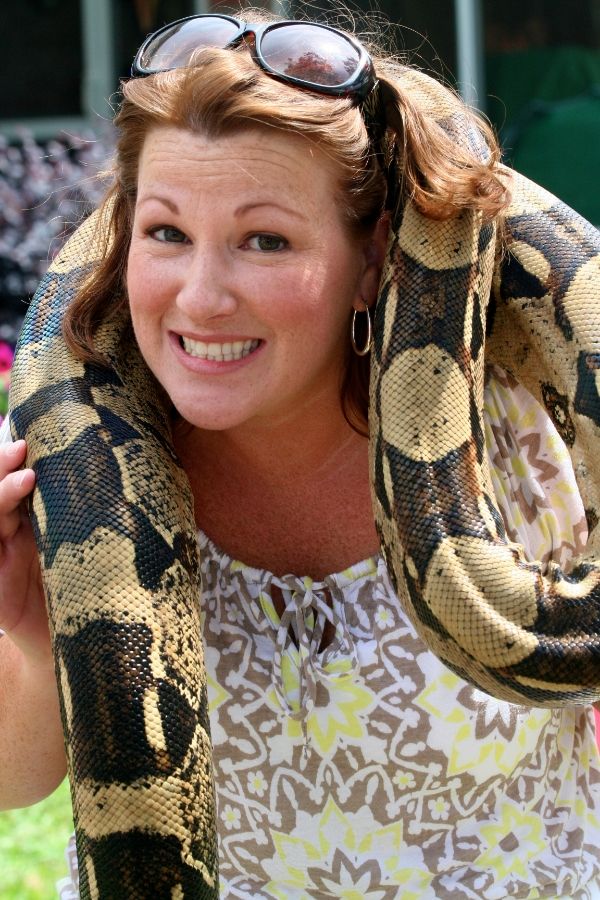 After the snake, the guests got to see a hedgehog.
Mr. Percy also introduced his parrot, Joey, to the guests.
Next, he had some lizard type animal that I tried to stay away from.
And finally, he brought out three ferrets. They were sweet and cuddly and now SM wants one.
After the animals, we had snacks, which I'll try to share in another post. The guests ate and played and we ended a fun, great day with our friends. By the end of the day, SM was exhausted, but happy. She said she wished everyday was her birthday. To me, that makes every bit of preparation worth it.
Hopefully, I'll get the rest of my photos this week and I'll share some of the decorations and food from the party.