On the morning of July 4th we headed to Grant Farm and the Budweiser Clydesdale stables. First on our agenda was a tour to see the horses. Before our tour began, we walked around and looked at some of the younger Clydesdales that are in training to be part of the show teams used by Budweiser. We all loved seeing the horses. They are beautiful.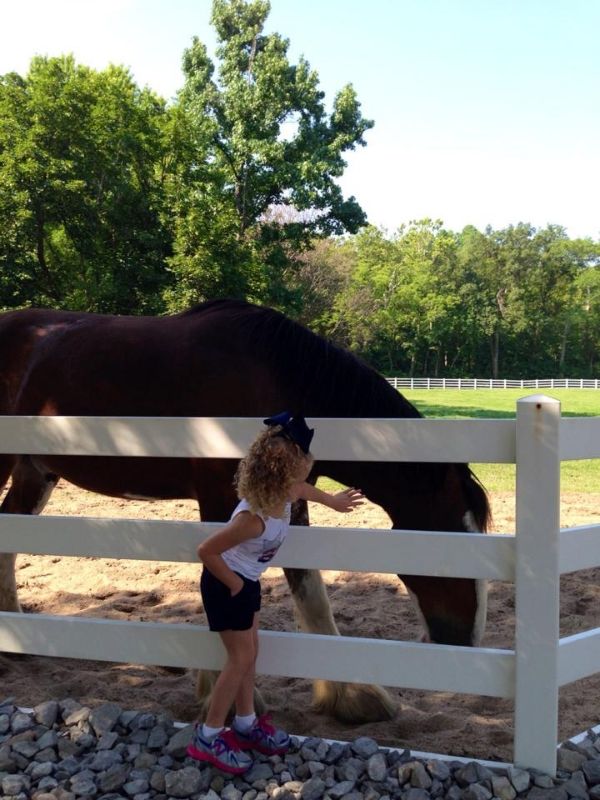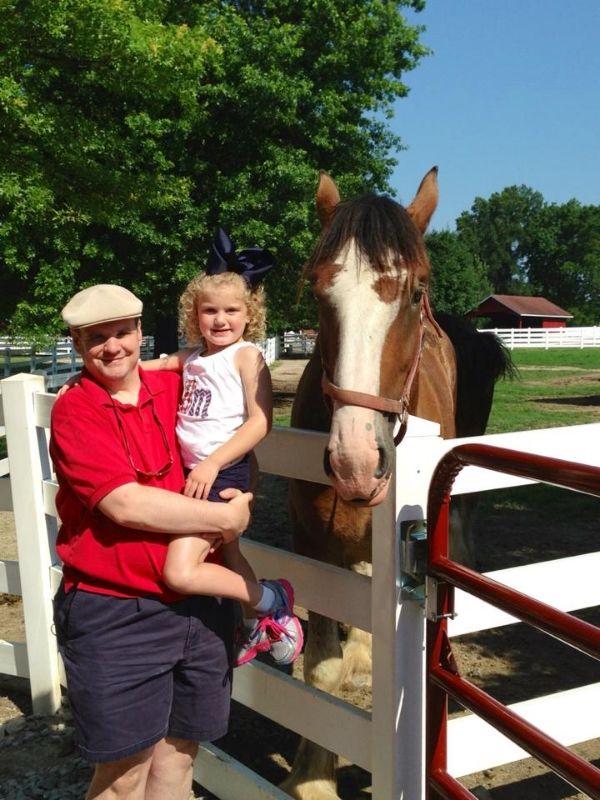 These next two horses are a little over a year old. They will most likely not be used as show horses because of their coloring and the spots in the white part of their face. They will either be used for breeding or in training other horses. They will still go through much of the training that the show horses go through to teach them to be around people, and teach them how to act during grooming and such.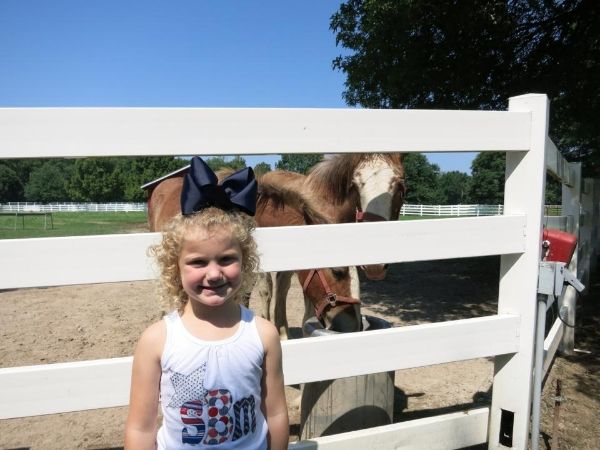 Once we started our tour of the stables, I was unsure if SM would make it through the entire presentation. For the first 20 minutes or so, there was little in the way of horse petting and such. There was a lot of explanation of the gear they wear, their training, their handlers' training and so forth. At one point SM looked at me or Reagan and said, very loudly, "This SO boring!" Everyone in our tour group looked at her. That's when she and I walked away for a minute or two, enjoyed a cookie, and joined back up as the group moved on to the next point of the tour.
The highlight of the tour was at the end when we met retired horse, Scott. He is 18 hands tall and weighs around 1,800 pounds. He's pretty big. But he was so well behaved and gentle. He needed little guidance from our tour guide. He knew his job and he did it. He walked out of his stall, walked over to where he was to stand, and let us look at him and even brush him with very little movement from him at all. We were all pretty amazed by him.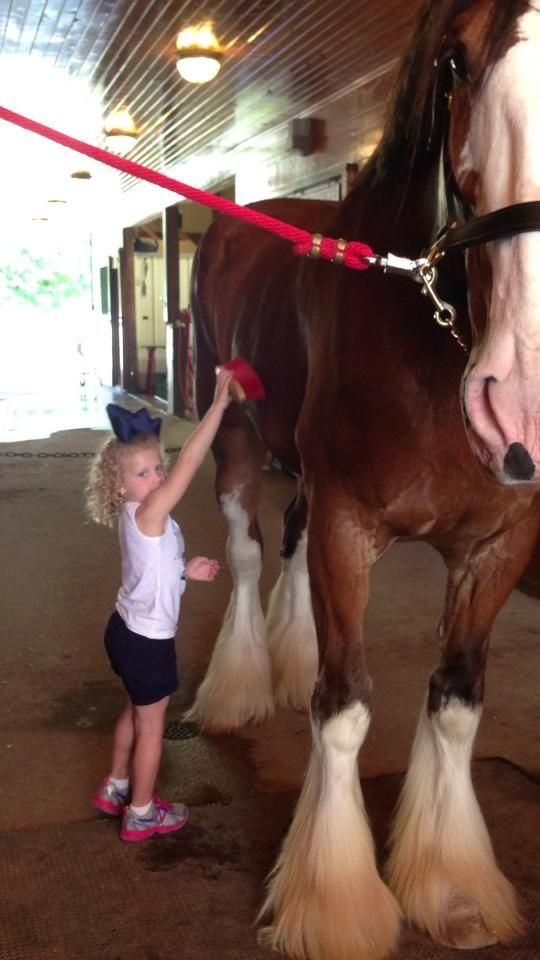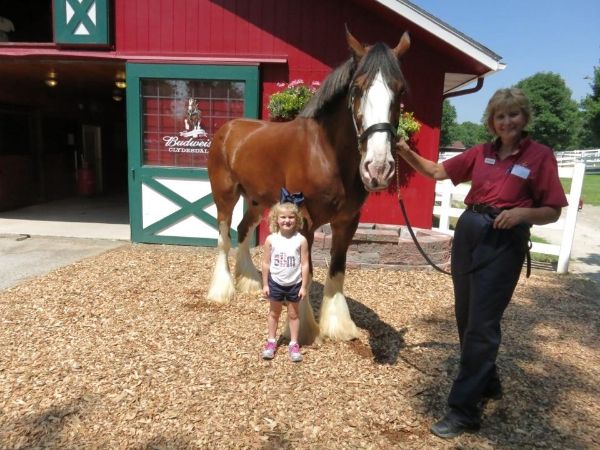 As I said, he is retired. Aside from being shown in this manner to visitors, he spends his time grazing and walking around with his friends.
After our tour, we headed across the street to Grant Farm. Let me just tell you, it was not Disney. Not by a long shot. One of the main things I disliked about this tourist spot was that they do not allow you to bring any food or drinks in, although I did sneak a few snacks for SM in my purse. I didn't want to take a chance on her blood sugar level dropping. And trust me, the employees at the park didn't either. They just didn't realize it. Anyway, you can't take anything in to eat or drink. And they only had two small food shops on the grounds. Neither was good and both were way over-priced. Even Disney lets you bring in small coolers with food and drink. And they also said on their website that you couldn't bring in strollers, but that they had them to rent inside the park if you needed one. Well, we took our stroller in, as did many others. If I was someone who regularly speaks their mind, I would have talked to management about how much I dislike some of their policies. But instead, I'll complain on my blog where they'll never know.
We boarded the tram and rode to the area where the petting zoo was. It was a good break for all of us after walking for over an hour.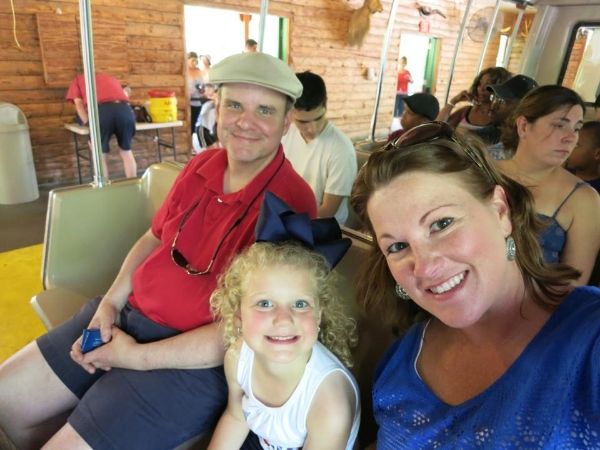 Once we were actually in the park/farm, we went to eat at their over-priced snack shop. Then, we let SM ride a camel. She was pretty excited about that.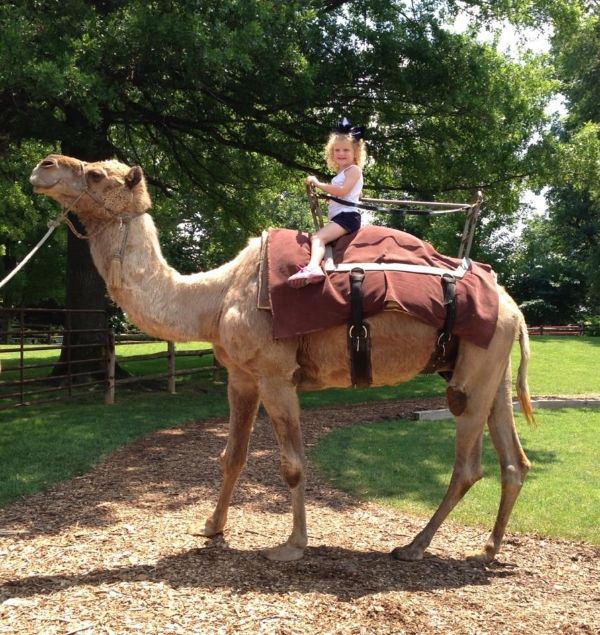 It was pretty hot. So, she got to run through the misters. As a matter of fact, we all ran/walked through them.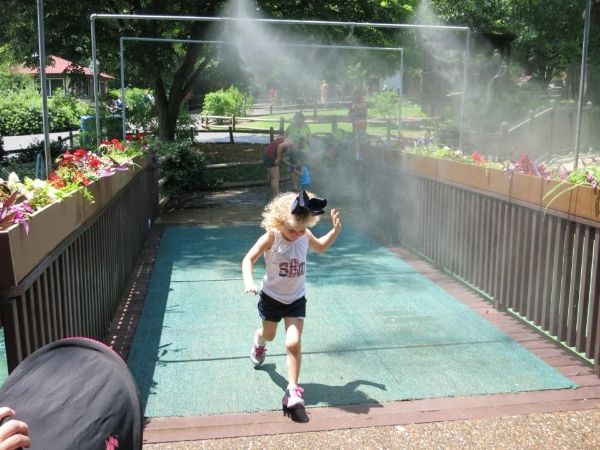 And before we left, she fed two goats a bottle.
We went back to our hotel and she and Reagan played in the pool for a little while. I sat with them for a few minutes then headed back up to our hotel room for a quick nap.
After pool time, we all dressed and went to The Cheesecake Factory for dinner. SM even got a scoop of vanilla ice cream at the end of her meal. Reagan and I ordered two pieces of cheesecake to go.We went back to our hotel and put SM down to sleep. Once she was down for the night, Reagan and I went out on the balcony of our hotel room, with our cheesecake, and sat and watched the 4th of July fireworks all around us. It was a good first full day in St. Louis.