Last Wednesday I took SM to the local library for a little fun. They had refreshments and the fire department brought their water truck around for the kids to play in the spray from the hose. My friend, Jackie, came to sit in the heat to keep me company while SM and the other kids played in the water.
Sara Madalin has gotten in the habit of wanting to sleep in our bed on Friday nights. She usually goes to bed before we do, so I put her down in our bed and Reagan and I watched a little TV before going to bed. When we went into our room, this is how I found her.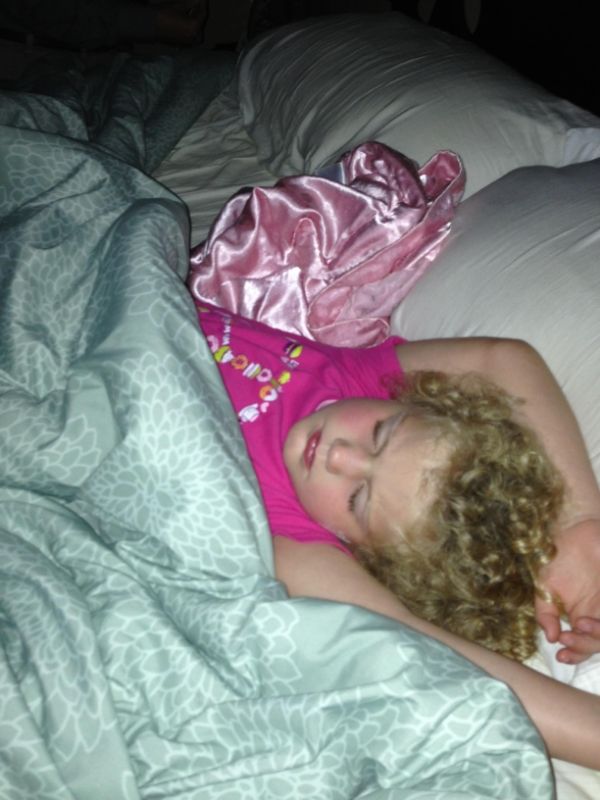 She had made herself pretty comfortable. At one point in the night she was lying with her head on top of me and both her legs draped over on top of Reagan. I told Reagan the next day that if I could have gotten to my phone I would have taken a photo of her. It was funny.
Saturday we got up and went to register her for Fall gymnastics class. Registration started at 8:00 a.m.
I arrived at 7:45. I was about 200th in line. I had no idea it was such a big deal to sign your child up for gymnastics. I later found out that there were moms who arrived as early as 5:00 a.m. and waited in line until 8:00. It was crazy. But it did give me an opportunity to visit with several of my friends who were in line with me.
After registering SM for gymnastics, which I thought would have taken only an hour at most, we headed to the annual Tomato Festival in Crystal Springs. We normally try to be there around 8:00, before it gets so hot. We arrived at almost 11:00. We didn't stay long at all. But it was long enough to see some of our local friends.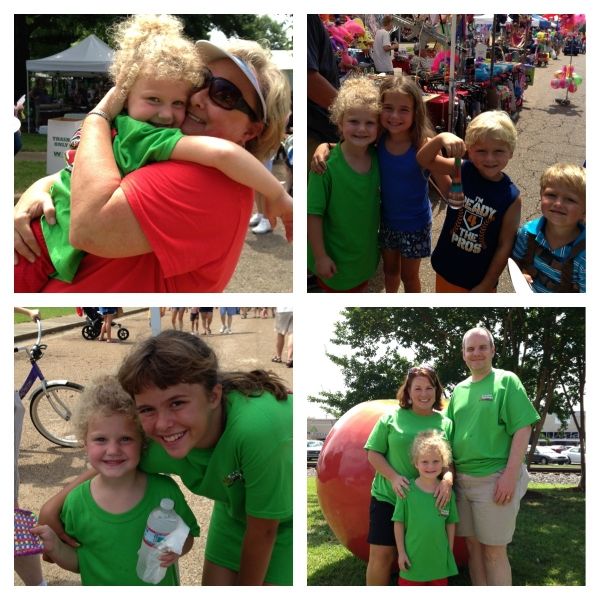 After leaving the festival, Reagan went to the hospital to see Scooter. SM and I stayed inside where it was cool. SM was so tired that she actually lay down on the couch and went to sleep without any prompting around 3:30. When I told Reagan she had done that, he asked if she was sick. She just never does that. She slept for over an hour.
Sunday morning we got up and got ready for church. In celebration of Independence Day this week she dressed in a red, white, and blue outfit. This girl is a mess and she knows it.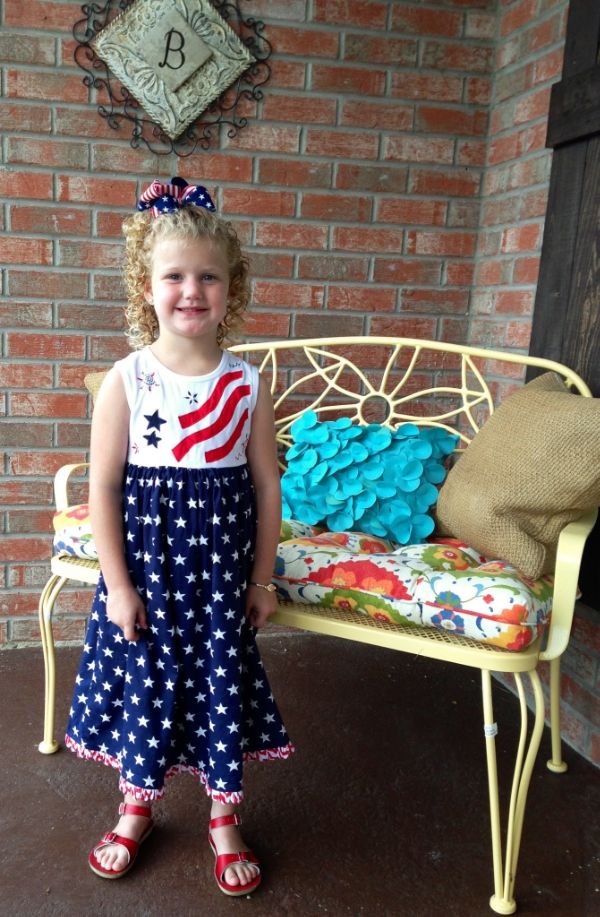 After church we went to eat lunch with SueSue and David. Then we headed over to the hospital to see Scooter. He was awake and actually talked and laughed with us all some. Not everything he said made sense, but at least he was alert and we got to visit with us some. He made sure to tell everyone that came in that SM was his girl, not ours. And he'd ask her in front of us who her best friend was, just to get her to say it was him. It was sweet. She loves him. She told us Friday night that she missed him more than a sweet cupcake. Missing anyone more than sweets, for her, is a pretty big statement.
Here's a quick photo of them right before we said good-bye for the evening.
That was our weekend. This morning Reagan and I dozed in our room until about 7:00. We heard SM up playing in her room. She's done that before, played for about 30 minutes or so while we listen over the monitor in our room. So, we didn't think much of it. Then, around 7:00 I realized I couldn't hear her anymore. I got up and walked to the kitchen. I noticed the pantry door was open and the light was on in there. I walked in there and she was on the floor with a tube of chocolate icing, opened, and turned up to her mouth. She was squeezing it into her mouth as quickly as she could before getting caught.
I keep anything like that on the very top shelf of the pantry. Reagan even has to have a step stool to get anything down from there. SM had climbed up the shelves to get it. She didn't know it was there until she got up there and started exploring the baskets up there. We later found out that she'd also opened a box of runts candy I'd used for a project around Thanksgiving. Also, I noticed her fingers and mouth were red, blue, and purple. I asked her what she'd gotten into that caused that. She said, "Those small cans." I quickly discovered "those small cans" were tubs of coloring I had or dying icing. I asked her if she'd put her fingers in them. She said no, that she'd licked them with her tongue. So, I threw all those away. Then, finally I asked her why she had gotten into all that stuff. She said she was hungry. And instead of eating a banana or cracker from the second shelf, that she could so easily reach, she thought it was a better idea to climb up four feet to the shelf where I place things she should NEVER eat.
Needless to say, the child who we try to keep all artificial flavors and dyes from, was about fit to be tied after all the junk she put in her body this morning. I made her drink lots of water in hopes of flushing all that out of her quickly.
I tell ya, I don't get paid enough for this gig.