Friday of our vacation was FULL of activity. This is the first vacation we've carried SM on that she didn't need to go back to the hotel for rest (nap) in the middle of the day. Because she was able to go all day, we were able to see more sites while in St. Louis. Basically, the only time she slowed down was if she was hungry, thirsty, or needed to go to the bathroom. It was a busy day for her.
We started our day at The Magic House, St. Louis' children's museum. There are two wings to this museum and each wing has three floors. There are also areas outside with things to explore. SM was in heaven. We let her take her time and explore. Some things she rushed through. Some things she stayed at for a while. And other things she passed right by with no interest.
There was a beanstalk between floors in one of the wings. She chose to climb the beanstalk rather than the stairs to the second floor.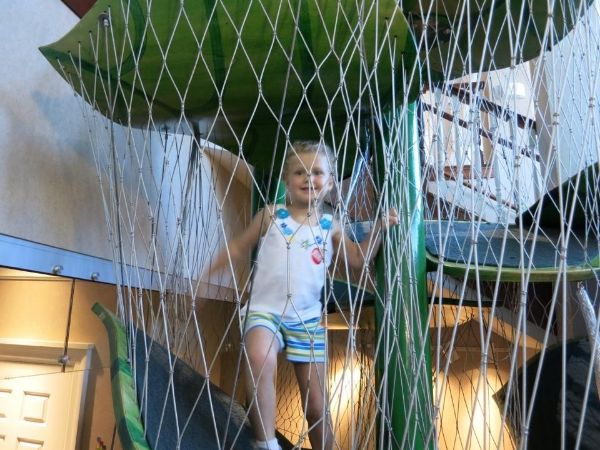 There was a construction "room" and inside it was an area for digging in rocks, working a tractor/backhoe type thing, painting a wall, and a whole two stories of a house framed out that children could pretend to insulate, wire, and put pipe together for plumbing.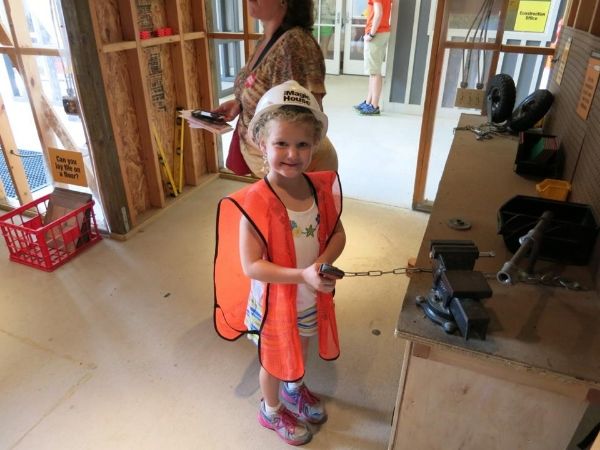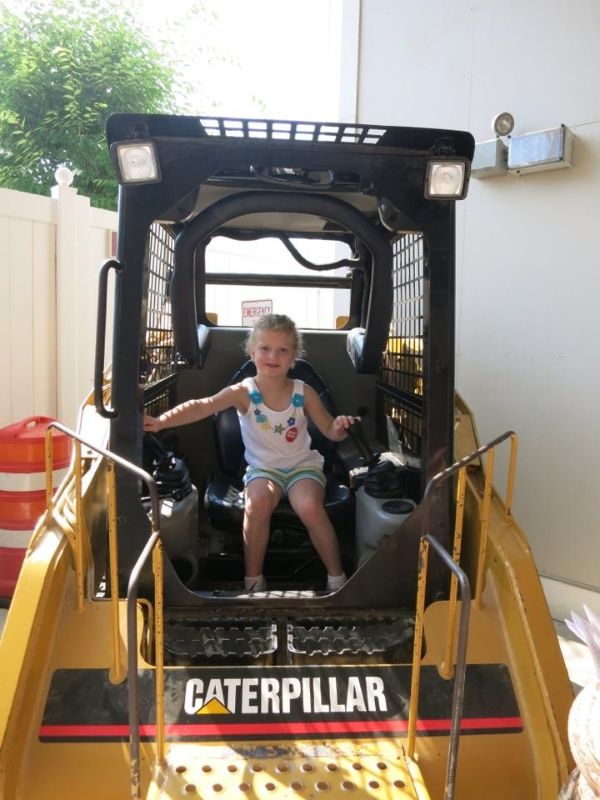 We made our way to the roof where there was a small garden planted. There was also a little playhouse and a place where children could plant their own pretend garden. She pretended to pick some vegetables and cook us some soup.
On another floor of the museum was an area set up to represent our three branches of government. SM could have cared less about this area. But we had her go into each of the rooms anyway. In the "Supreme Court" room she put on a robe and sat in the judge's chair. She liked sitting there because there was a working microphone.
She moved into the Oval Office where she took a few important phone calls.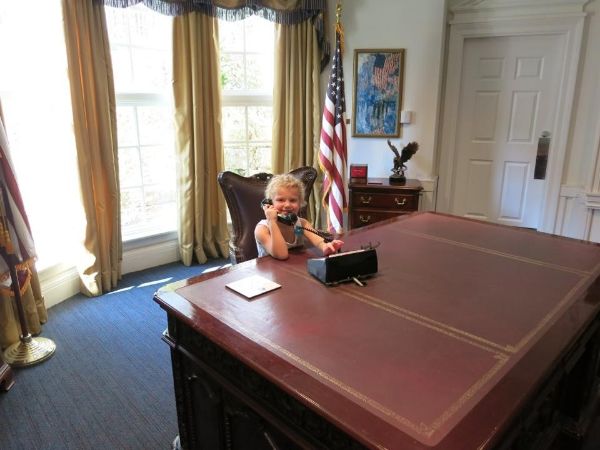 We moved to the other wing of the museum and she spent some time in the art room. She painted, she cut, she pasted, and she wrote on a white board, just to spray water on it to clean it off.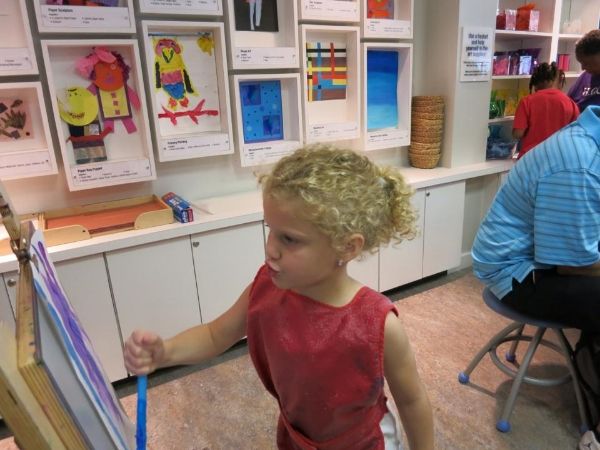 We finished up at the museum a little after lunch. We decided to go to the Science museum next. There were a few exhibits SM explored. But her favorite thing about this museum was the presentation on fire.
There was a guy who came out and showed several ways to create fire. The first way he showed us to create fire was with two rusty ball barrings. He slammed them together first to show that alone they couldn't create fire. Then he pulled out a box of aluminum foil. SM immediately said, "That's aluminum foil! We have that!" Reagan and I looked at each other and he said, "Maybe her seeing this isn't the best idea."
The guy then wrapped one of the balls in aluminum foil. He slammed them together again and there was fire. SM was very impressed. That child, who cannot sit still during a movie, church, or circle time at school, sat without flinching during this presentation.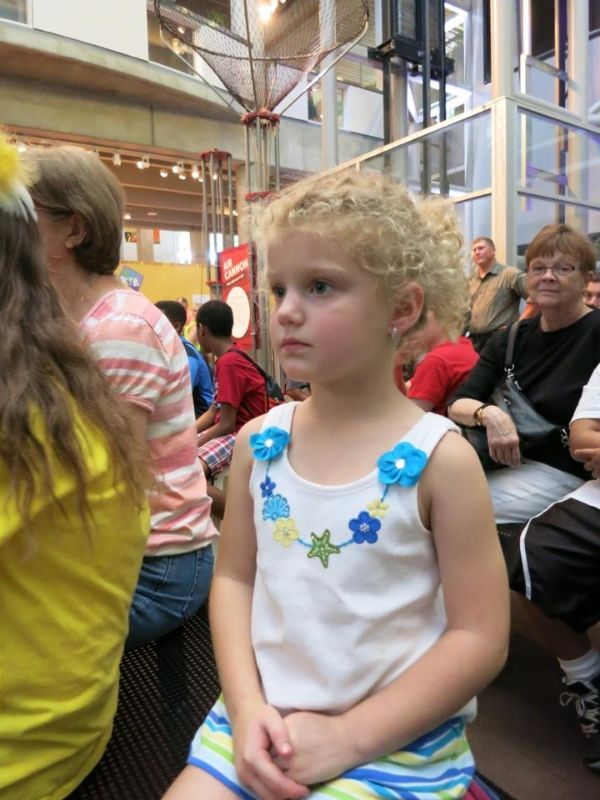 She not only watched the presentation that he wanted us to see, she also watched every move he made in preparation for the next part of his presentation. He would get one area on the stage going, with a fire or whatever he was showing, then he'd move away and prep something else while most everyone was watching the fire. SM wasn't watching the fire once it started. She was watching everything he did to get it started.
Since we've returned home, I've hidden the aluminum foil, by the way.
Once we finished at the science museum, we thought SM was still good-to-go for a while. So, we headed over to City Museum. It's an old building downtown that is turned into what is basically a huge playground.
We bought armbands and began to explore. We went to the roof first. There SM climbed and slid and climbed some more.
She got Reagan into one of the tunnels and they started climbing to the top. Reagan said it about killed him.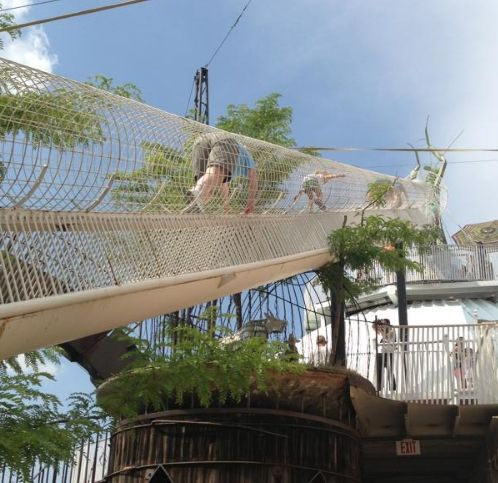 Then they went to climb to the very tip top area of the museum. At one point Reagan told her he was getting hot and tired. SM said to him, "Daddy, that's just what happens on the playground."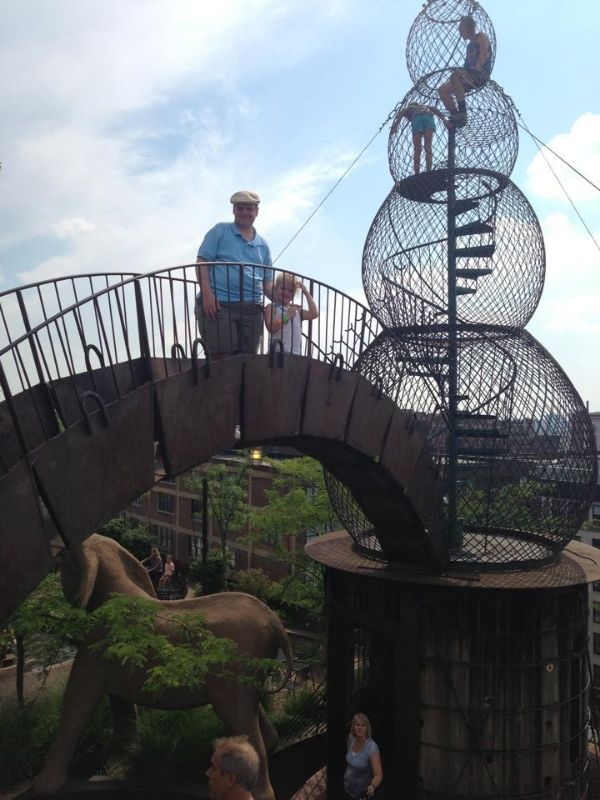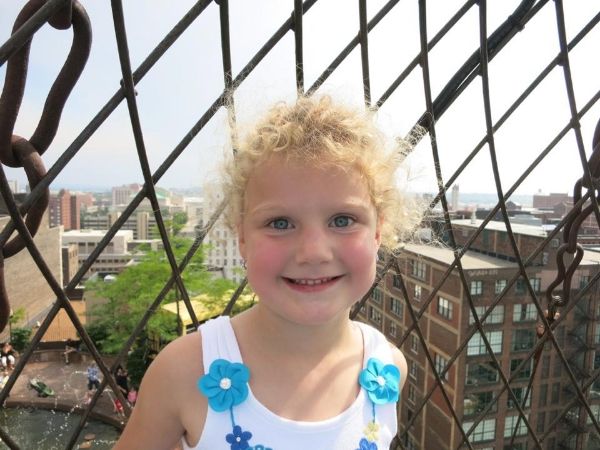 There was also a ferris wheel at the top of this 10-story building. Of course, these two would not be satisfied until we rode it.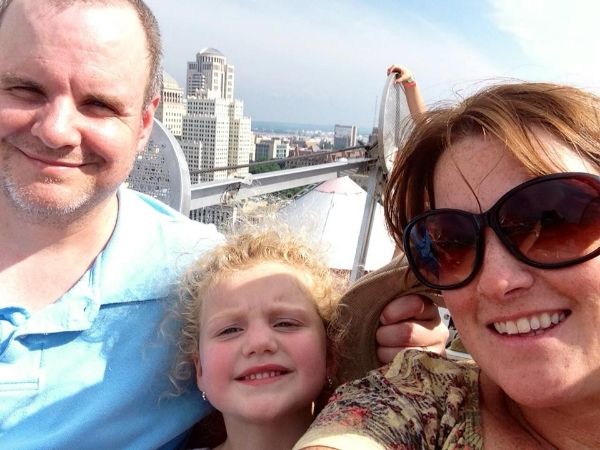 After the ferris wheel we decided to slide down the winding 10-story slide.
You can't actually see the slide we went down in the photo above, but that's a partial look at the way we went down the slide. It was covered the whole way down similar to what is shown in the slide at the top of the photo.
We each had to go down alone. I was nervous about SM going down the slide without one of us. It was a long way down, and it was pretty dark most of the way. I went down first. I waited for her at the bottom. I heard her coming and I was certain she'd be terrified once she reached me at the bottom. When she reached me she was smiling so big and asked if we could go down again. Because of time I had to tell her no. But we did explore a little more of the museum before leaving. I think that if we return to the area for a visit, first on our list will be a stop at City Museum.
After such a full day, we were ready for a good dinner. We decided to visit The Hill and have an authentic Italian meal. We ate at Rigazzi's. I had shrimp scampi and Reagan had lasagna. SM had a small cheese pizza. And, just as hungry as we were, we were even more tired. Here's a picture of SM and Reagan right before our meal came.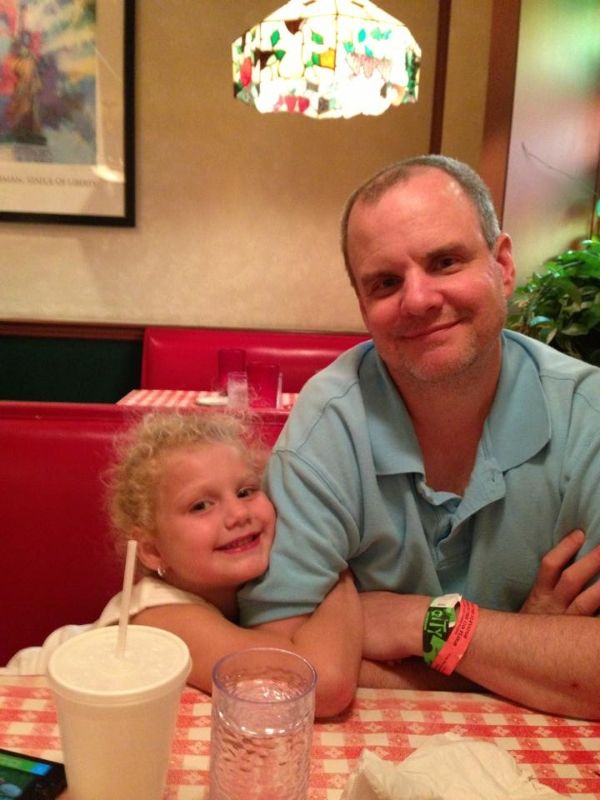 I suppose I should clarify. Reagan and I were exhausted. SM, as you can see, could have kept going.
After dinner, we headed back to the hotel, all had showers, and went to bed relatively early for us. We had one more full day for our vacation and we wanted to make the most of it.