Last Tuesday evening when Reagan got off work, we loaded the car and headed north. We were on our way to St. Louis for a little mid-Summer vacation. Reagan hadn't been off work since October and we needed a little time away. It was the first real "road trip" we've taken as a family. We've always flown with Sara Madalin (except our few trips to the beach, when we drove). We weren't 10 miles from home and she was asking, "Are we almost there?" Luckily, we left around 7:00 p.m. and she was asleep by 8:30 or so.
I told Reagan I would drive since we were only going as far as West Memphis our first night. He set up the GPS to direct me exactly where to go. Since it was pretty much a straight shot up I-55, I felt I could handle it. But there's something you should know about me, in case you read our blog and don't know me in real life. I'm competitive. In a bad way. Even when it comes to the ETA given by my GPS. When we pulled out of our drive-way last Tuesday night, the GPS said we would arrive at our destination at 10:55. I set out to beat that time. I told Reagan we would be at our hotel in West Memphis by 10:30. I'll have you know I pulled into the Holiday Inn Express in West Memphis at 10:21 p.m.
I'll be the first to admit, I have a problem. And I have two speeding tickets from this past year to prove it.
We unloaded the overnight bag I had packed for us and headed to our hotel room. SM was so sleepy, she barely woke up to walk upstairs to our room. She went right back to sleep when I put her down in her bed. We all had a good night's sleep and woke up ready to make our way to St. Louis.
We left the hotel around 9:30. I was driving again. And I had no sooner pulled out of the parking lot than Reagan's phone rang. It was the store. One of their pieces of equipment had started smoking and all their computers were down. So were the phones. They could not run prescriptions or check out customers. He was on the phone with them for the next two hours.
We stopped at Lambert's for lunch. Reagan was on the phone (still), so SM and I got a table and went ahead and ordered so we could eat. Reagan joined us just in time to eat his food before getting back on the phone again.
SM LOVED catching rolls. She raised her hand every time the guy called out "Fresh Rolls!" I had to make her stop after three rolls.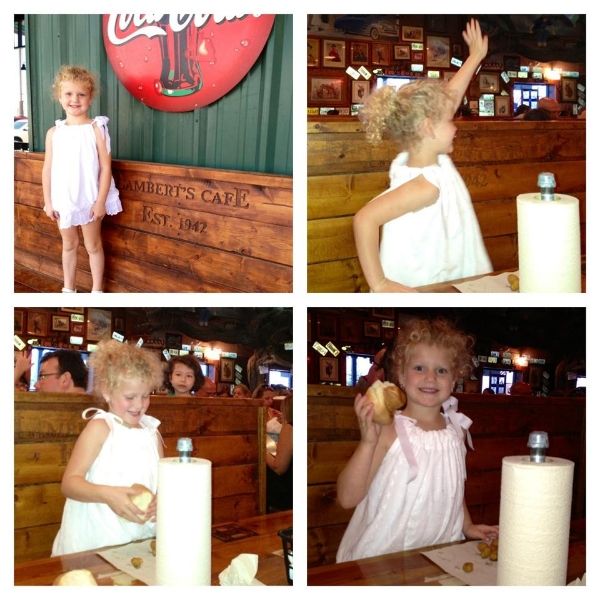 We made it into St. Louis around 4:00 Wednesday afternoon. We decided we'd drive over to the Gateway Arch and do a quick tour there before eating dinner and heading to bed for the night. We rode to the top of the arch and SM loved it. I was terrified. I'm extremely scared of heights. I was so afraid SM was going to fall out one of the windows (which, of course, were welded and bolted shut) and every time she'd try to get close to one I'd make her move away. We didn't stay at the top any longer than necessary. I was glad because I was ready to get back on the ground. While at the top, we took a few photos. The one of her and the guy on the right is going to be worth a lot of money one day. He told me so. He said a lot of people know him. He plays high school basketball in the area. He was pretty humble about it too.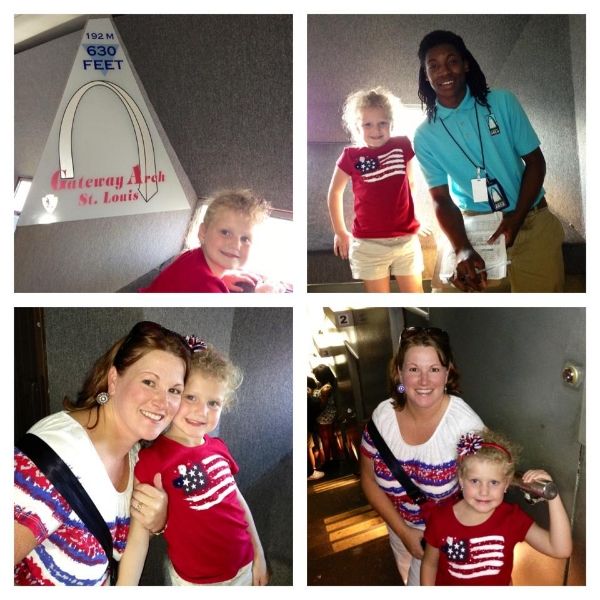 After the arch tour, we walked about a block over and signed up for a quick helicopter ride. It was SM's first ride. She had no fear. When asked if she wanted to sit in the front with the pilot, she climbed right up next to him. And as soon as she was buckled in, she tried to start pushing buttons. The pilot told her kindly not to do that. She loved every minute of the ride.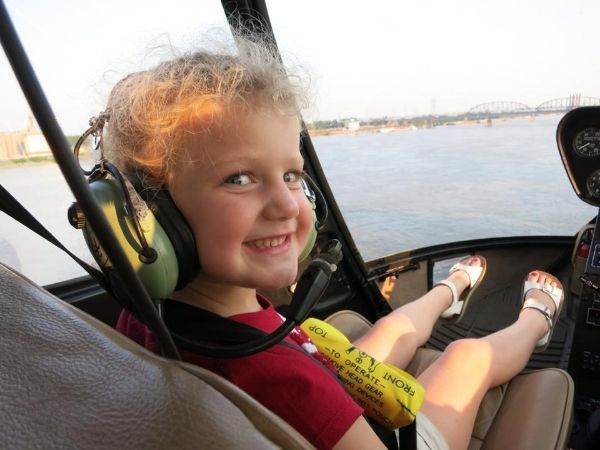 Reagan took this picture as we passed in front of the arch.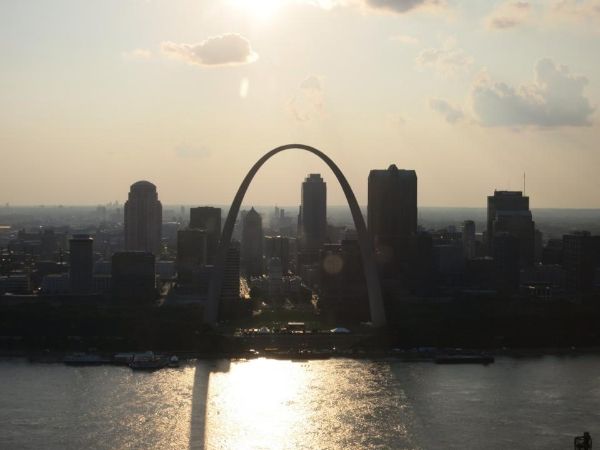 After our tour, we went to dinner, then headed back to our hotel. We tried to get to bed fairly early because we wanted to have a well-rested girl for the next day's adventures.