Our last full day of vacation was last Saturday and we decided it would be a great way to end our trip to St. Louis by visiting their amazing zoo. While we were waiting for the elevator to go downstairs SM turned to me and gave me this signal. She said that was how she felt about going to the zoo.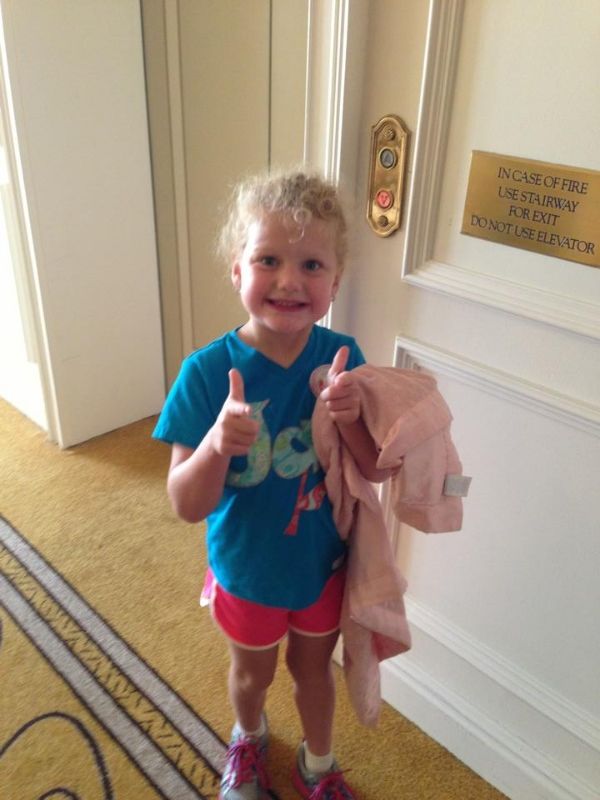 When we arrived we decided we'd see the next Sea Lion show. We had just enough time to get a couple cones of ice cream and make our way to our seats before it started. I have no pictures of the show (or the ice cream), but it was really good and SM enjoyed it.
It is probably no surprise that the first area we actually visited upon entering the zoo (after watching the show) was the Herpetarium. We found many vipers and rattlesnakes. But one of the most amazing things our girl saw was the snake in the next picture. When I spot the sign that said what was inside the glass enclosure, I said to SM, "Look Sara Madalin. Do you know what kind of snake that it?" She looked at it and said, "That's a Black Mamba!"
She has read about the Black Mamba in her books we check out from the library. She has watched documentaries on the most dangerous snakes in the world and learned that these are the deadliest in ALL the world. And on more than one occasion she has said to me, "Mommy, tell Siri to look up Black Mamba." She finally got to see a real one. She was happy.
We also saw the largest anaconda probably in captivity. Probably not, but that thing was huge. And he looked hungry.
We visited a few other areas of the zoo, then Reagan and SM decided to get in line to touch the stingrays. I decided to sit in the shade and wait for them.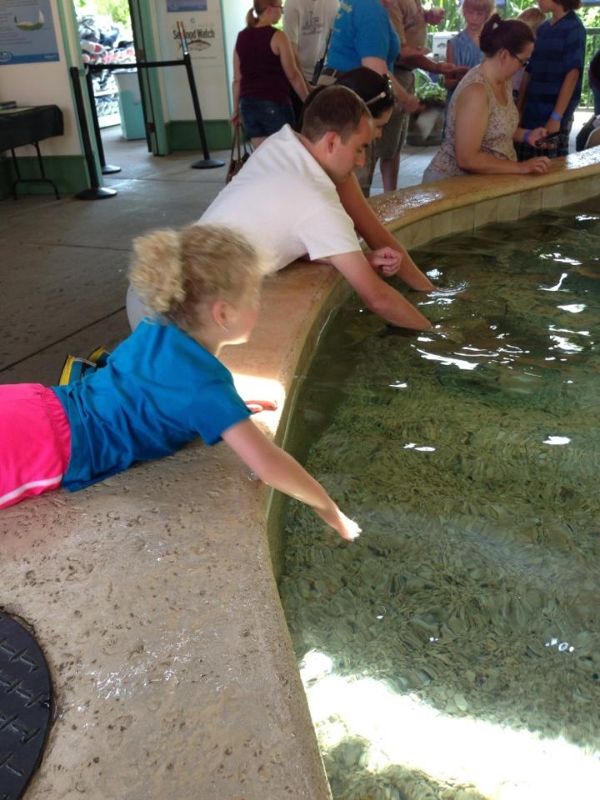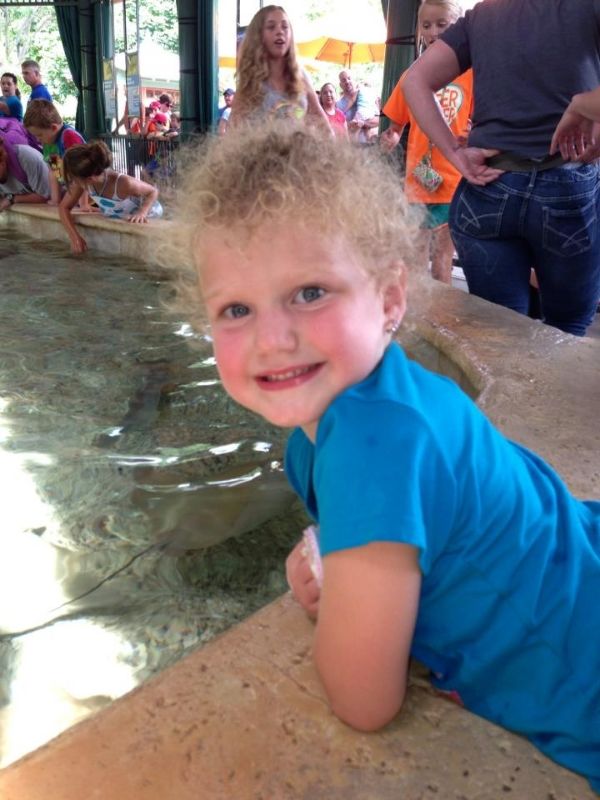 There were also some baby sharks in the water with the stingrays. They were not allowed to touch the sharks, but SM was very excited about getting to see them.
We saw other animals and heard a few other presentations, but we didn't take many pictures. I do have a picture of SM holding elephant dung. But I forgot to upload it to post. It wasn't fresh, in case that matters. It was covered with something that preserved it and made it solid.
After leaving the zoo, we went to eat dinner at a local Japanese hibachi restaurant. It was SM's choice. She could care less about the food, which she barely touches. She just likes to watch them cook in front of her. And she likes getting the fortune cookie at the end.
Our last tourist spot on our St. Louis trip was Ted Drewes. It's a famous frozen custard shop. We all enjoyed a small cup of frozen custard there. Along with every other tourist in the city.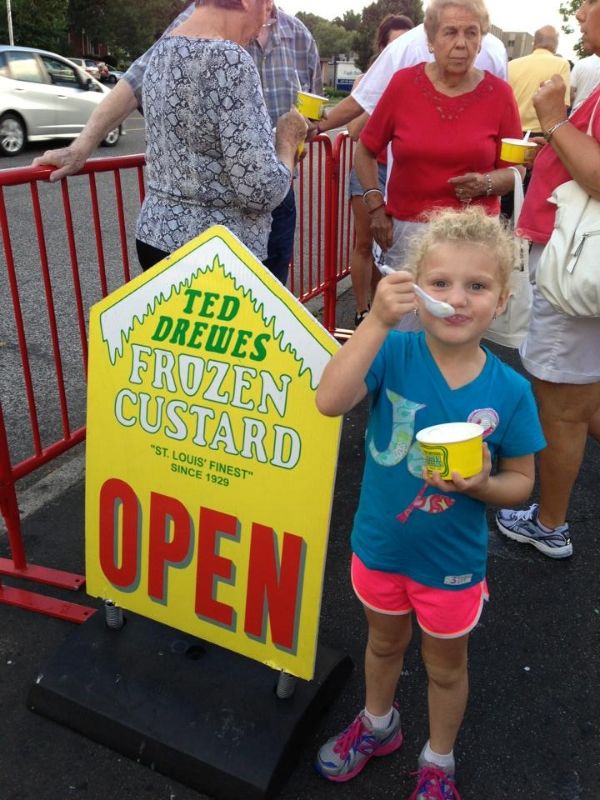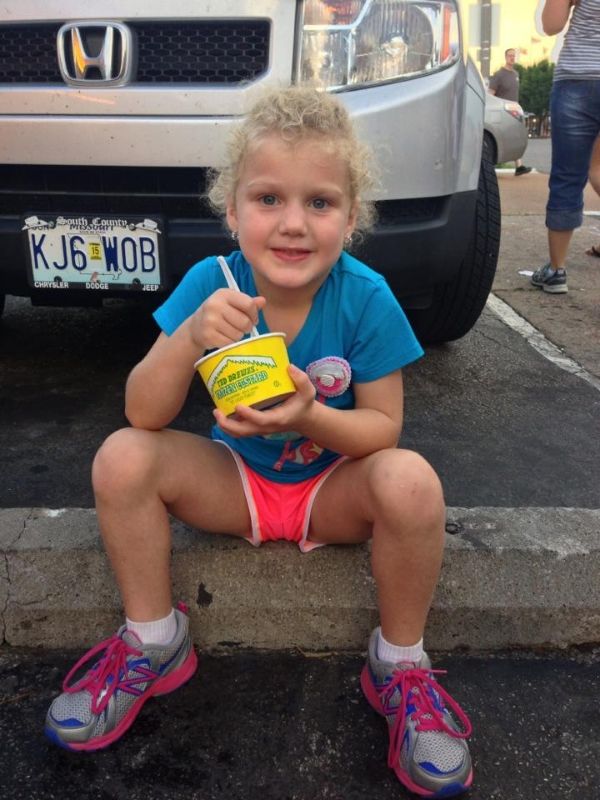 SM loved it so much that she turned her cup up and drank every drop of the liquid before throwing it away.
Now, you may or may not have caught in previous posts that we don't normally let SM have a lot of ice cream or other foods that have artificial flavors. This was a real treat for her. And I'm not sure what all was in it, but about 5 minutes after we left Ted Drewes, that girl acted like someone who had just drank about half a bottle of Tequila.
She started singing in the back seat. She could not be still to save her sweet life. I heard her in the back seat start singing, "My lipglosssss... is Poppin', is Poppin'." Reagan said, "What is she singing?" I said, "Lil Mama's 'Lipgloss'."
At one point on the ride back to the hotel, she said or did something and Reagan got on to her. To which she replied to her father, "Holla!" He looked at me and said, "Where has she heard that?" I just turned and looked away. Then the little drunk tattle tail in the back seat said, "Mommy say it! Holla!"
Finally, we made it to our hotel and I felt like I was with a drunk girlfriend trying to get her upstairs before we either got arrested or kicked out of the hotel. She was dancing and singing and talking to everybody we passed. She had gotten some rocks at the zoo. She walked up to a complete stranger, dressed for a dinner party being held in the hotel restaurant, and said, "I got rocks! Holla!"
I have to admit, she was funny. But I was glad when we finally got her upstairs, showered, and in the bed. She fell asleep on my arm (with her hair still wet) as we lay in the bed watching TV. She was one tired girl.
We slept good, got up bright and early the next morning, and headed home to MS. It was a great family vacation with two of my favorite people.