Last week was Sara Madalin's first week of Kindergarten. She could not have gotten off to a better start. She was very excited and well-behaved when she woke up Monday. She ate a good breakfast. She was eager to go. When I picked her up that afternoon, she was exhausted. She wanted her milk (I always bring a cold carton of milk when I pick her up, along with a small snack) and to unwind. About half-way home, she said to me, "I got to be the chair detective today!" Well, of course, I had to know what the chair detective's job was. She was very happy to share that she was responsible for making sure that all the chairs were pushed under the tables before everyone left the room. She said that if she did her job well all week, she got to "move up." Moving up meant she would get a new job. And just so you know, she did well last week because this week she is the flag holder during opening assembly.
I think she is really enjoying her year so far.
And as if school starting back and readjusting to our schedule was enough, I went and agreed to be team leader for our church's Fall consignment sale. We host a sale twice a year to raise money for local and foreign missions. It's a wonderful opportunity for moms in our area to sell items their children no longer need or use, and we are able to raise money for missions.
So, last week my friends and I spent pretty much every hour from Wednesday morning through Saturday evening at church. We were tired, but it was a great tired.
Here are just a few photos I took throughout the sale. The first is a collage from the first day of drop-off. In just a day and a half we checked in around 32,000 items from our consignors.
Here is a collage of some of our volunteers at work.
Here's the team right before "go" time. Brandon, the computer genius behind our website and everything computer-related, was teaching us about a few changes he'd made to our check-out process. You can see we were all enthralled by his presentation.
Here's the sale right before we opened for the pre-sale.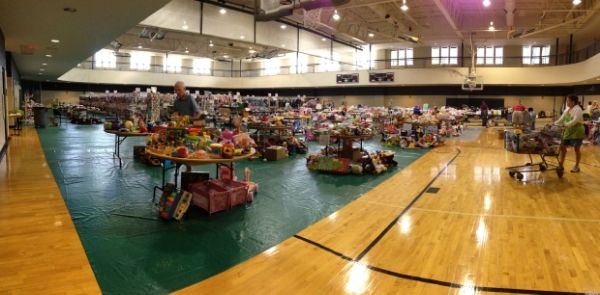 We had a great, but awfully tiring week.