Here's what you need to know about our weekend - A) Sara Madalin only depends on us, her parents, for a ride to her destination, and food, and B) I got stung in the face by a horse fly.
I'll give more details and pictures regarding those things in the next few blog posts this week. I know, those who read this blog are on the edge of their seat. But for now, let me begin with Friday night and our travel to Camp What-A-Family.
Each Fall our church has a weekend get-away for families that we call Camp What-A-Family. It starts on Friday night and lasts through Sunday morning. We stay in cabins at a rural retreat location. There are no phones or televisions. Cell service is limited to nonexistent, and there is only one area where wi-fi can be picked up. And most importantly - the kids LOVE it.
The first year we attended SM was only 2-years-old and it was very difficult for us. She still required naps and we couldn't leave her unattended anywhere for any amount of time. We were fairly new to the church and didn't know many people. We were unable to visit with other adults and really get to know anyone because we had to be after her the whole time.
Well, things have surely changed in the years since then. Every year our friends have told us how they rarely know where their children are while at the retreat because they all just take care of themselves. We've also been told how other families' children look forward to the weekend for weeks. We saw both those things come true for our family this year. Sara Madalin asked us every day for almost a month, "How long until Camp What-A-Family?" Thursday night of last week she could hardly sleep. The girl was ready to go.
So, Friday evening Reagan came home a little early and loaded the Acadia and we headed north to Lake Forest Ranch.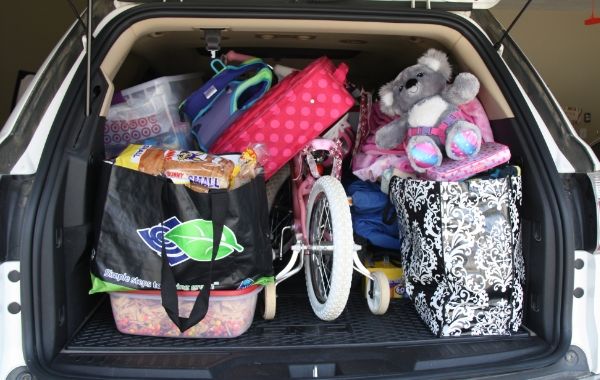 As you can see by the contents of our vehicle, we have a pretty high maintenance girl. She needed her bike because EVERYONE brings their bike to CWAF. She needed "clean" food because we learned last year with the french toast/syrup incident that I needed to have a back-up for every meal if we wanted to be able to stay the entire weekend. (And still meals were our most stressful time during the whole weekend.) Then there was bedding, clothing, swim gear, sidewalk chalk, a cooler for milk and other foods, and all manner of other things needed for a TWO DAY trip.
We arrived a little before dark, and were one of the first few families to check in. We went to the cafeteria and found the Queen of Camp What-A-Family, Tammy, to find our where our cabin was located. Tammy loves CWAF and always makes sure everyone has cabin assignments and that we have fun things lined up to do. She also handles ordering and distributing the snazzy t-shirts for each camp.
We then went to our cabin and unloaded the majority of our stuff, including SM's bike. I think I've figured out why it's so important for the kids to bring their bike for the weekend. A bike means freedom. You can go anywhere and back as long as you have a bike. SM jumped on her bike and we headed back to the cafeteria for fellowship and to await the arrival of more families before the introductions and welcome by the camp directors.
When we got back over to the cafeteria we saw several people from our Sunday school class, as well as friends from other (younger) classes at church. We also saw sweet, faithful Mrs. Cathy. She is on staff at our church and rarely misses an event hosted by our church, a Sunday school class, or any other group associated with the church. She is tireless and invaluable. I want to be just like her when I grow up.
A few of SM's friends began to drift in with their families and she pretty much abandoned us for them. Here she is with two of her little friends.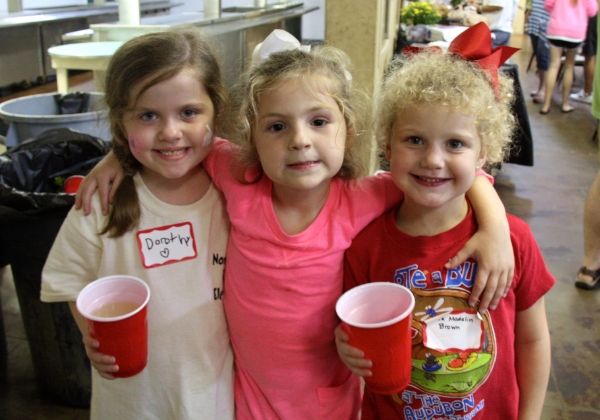 That girl. She has got to be one of the most confident, outgoing, unpredictable, and unashamed children I've ever seen. She finally convinced us to let her venture outside the cafeteria to play with her friends. We were nervous, but after talking over a few rules, we let her go. Reagan and I went out to check on her every once in a while. One time he went to check on her and she was in the building where worship services are held. There was a group of older girls in there as well. They had microphones on and they were practicing a "skit" for talent time. SM had a microphone and was singing and dancing. She really had less to do with us this past weekend than any other time we've ever spent with her.
Around 8 p.m. we all gathered back in the cafeteria and waited to hear the rules from the camp hosts. One of the hosts also performs pantomimes for us each year. The kids LOVE it and look forward to singing and acting along with him. SM is no exception. Here she is with a couple of her little friends as they watched Mr. Rich perform "The Mississippi Squirrel" by Ray Stevens.
I don't have pictures of it, but our girl put on quite a show herself during the songs. She got up and danced a bit. I just couldn't watch. At one point, I had to put my head in my hand and act as if I was somewhere else. Thankfully, Reagan got up and walked over to her and told her to settle down a bit.
While Rich was presenting his pantomimes, and Chad (the assistant grounds person) was reviewing rules and such, I was looking around at those present. I snapped this quick photo of my friend Dawn, who was sitting toward the back of the room.
Bless her heart, she was tired. I joked with her that she was a Mawmaw - too tired to be up that late at night (maybe 9 p.m. at the latest) and so cold that, while everyone else was in t-shirts and shorts, she was in long pants and a sweatshirt.
We enjoyed our time Friday night. After welcome/intro time, we tricked our girl into believing that everyone was going to bed so they could get plenty rest for the next day. We headed back to our cabin and tried to get to sleep before the teenagers began their late night talking and giggling around camp. Our girl was so excited she could hardly wait for Saturday and all the fun to be had when the sun came up.