Saturday morning while we were at CWAF Sara Madalin woke up with the sun. Luckily the family next to us in our cabin also have small children so, although we were up early, they were as well. As soon as she could, SM put on her shorts, t-shirt, jacket, and shoes and she was out the door. Didn't even brush her teeth or let me fix her hair. We told her not to leave the porch. She wasn't out there two minutes and we heard her talking to someone. She came back in almost immediately and said to me, "I found a friend and we're going to be out here together." I looked out and saw one of the sweetest little boys in our church, who is also a talker. They were perfect for each other. They stayed out there until I called her in to finish getting ready. Well, he and his sister just came right on in too and waited for her.
We went to breakfast after we were all dressed and ready. I carried her some cereal and fruit, just in case breakfast was not something that she could have. Good thing we carried something. They served us french toast sticks and syrup. There was NO WAY we were going to have a repeat of last year. I told her she'd have to eat her cereal. She was ok with that. Whew! That was actually the ONLY meal where she accepted what I told her she had to eat. Every other meal was an ordeal, complete with an argument and meltdown in front of everyone. But we (Reagan and I) stood our ground and she ate as she was supposed to the entire weekend.
After breakfast, I went out to sit on the porch and talk to a couple of friends from our Sunday school class. I was sitting there, talking, rocking, and you will never believe what happened. A horse fly flew right into my face and stung me under my right eye. YES, it did!
I jumped up and went to get some ice. My friend went to find Reagan so he could get me some Benadryl. We met as he was walking from the cabin and I was walking to it. All we had with us was children's Benadryl. With several doctors and nurses at the retreat, I'm sure we could have found some adult meds, but I was ready for something then. So, Reagan gave me the liquid meds through the only thing he had, a dropper. Another friend who was standing nearby said, "Oh, you've got to have a picture of this."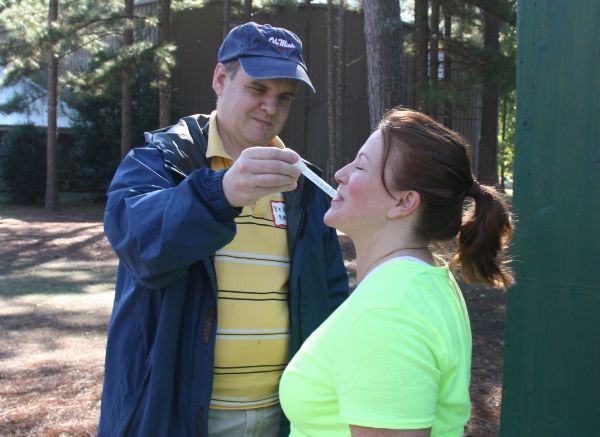 This is my eye about 10 minutes after being stung. About 5 minutes later the top and bottom were swollen to the point I was looking out of a slit, like I'd been punched in the eye. It went down pretty quickly after the meds. Luckily, I have HUGE movie star sunglasses. I put them on and kept going. By late afternoon, you couldn't even tell I'd been stung unless I told you.
Our morning continued with the littlest campers getting to spend some time on the ropes courses. SM decided she'd give the rock wall another try. Here she is getting her harness on.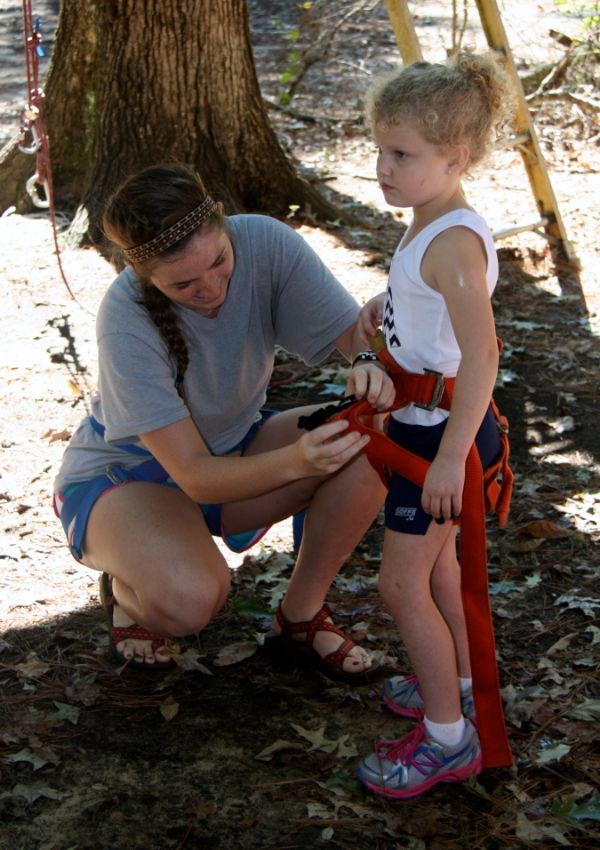 She got to the top of the ladder and she was done. But I have to say, she wasn't the only one. Every preschooler who tried the rock wall only go that far. We told her we were proud of her for going that far.
The rest of the time that we were at the ropes course area SM just hung out with her little friend Michael. They are pretty fond of each other. Most of the time.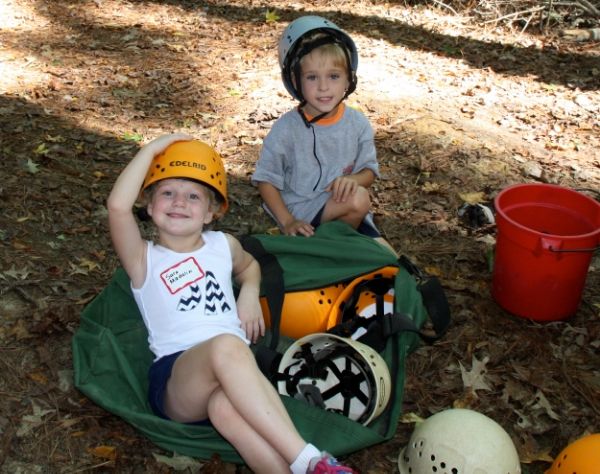 After the ropes course, the preschoolers had a little treasure hunt with toys and candy. Here is SM with a few of her buddies after the hunt. They were proud of their goodies.
We had lunch, then it was time for some afternoon fun. We signed SM up for horses and riding the inner tube in the lake. She decided she wanted to ride the tube first. We never made it to the horses. She got to ride the inner tube with a couple of girls who are just a couple years older than her. She thought she was grown riding like the big kids.
She LOVED it. As they neared the pier, they got up on their knees as they'd seen the older kids do before them.
After the inner tube ride, Reagan took her to the pool for about 30 minutes. Then we went to the cabin for a nap. We slept for about an hour and a half before getting up and getting ready for dinner and evening worship. Our girl was still pretty tired after her nap, but she pressed through.
Worship service was really good. Following worship was the much anticipated talent show. And I use the word "talent" very loosely. In order to avoid SM begging to get up on the stage and "make people laugh," which is all she thinks the talent show is about, I convinced her to walk back to the cabin with me to get a snack. Her friend Michael joined us. They both carried flashlights and never once shined them on the path in front of us. When we returned to the talent show, it was almost over. The two of them were content with just playing and dancing in the back of the room.
After the talent show, we all went out to the lake for a bon fire. I let Reagan stay out there with her while I went back to the cabin to pack up some and get ready for bed.
We had a lot of fun and we were exhausted.