So, I guess I'll finish my posts about Camp What-A-Family since I let almost a whole week pass since my last post on LAST weekend's events.
Last Sunday morning we got up and got everything packed up and ready to head home. We walked over to the cafeteria for breakfast. I can't remember what we ate, but the meal was without incident, so that was great.
After breakfast, Reagan went to load up the car. I stayed around the cafeteria to take a few photos for people. And SM found her buddies and they rode bikes for the last bit of time that they could. Here she is with the twins. She loves them. And they love her back. Most of the time.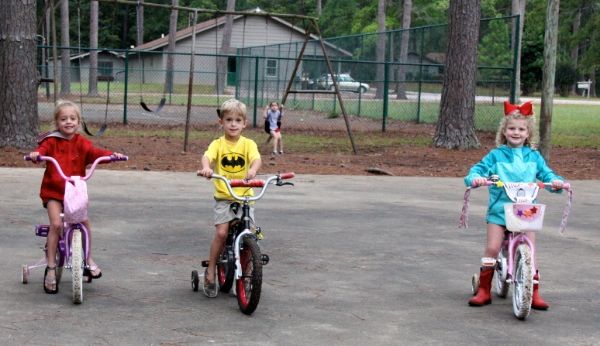 We had Sunday morning worship at 10:00 before everyone headed home. We had singing and a short devotional given. SM was full of love for me and her Daddy during worship. She went between the two of us loving on us and giving us hugs and kisses. It was precious. Here she is loving on her Daddy.
After breakfast we normally take family photos. The normal photographer was not there because her child had a soccer tournament that weekend. I was asked to snap photos. I'm not a professional, but I did my best. When Adrienne and her family (the twins' family) came up to take their photo, SM thought she was supposed to be in their family picture too. I convinced her to step aside while I photographed just the family, and after I'd take a picture of her with the the twins.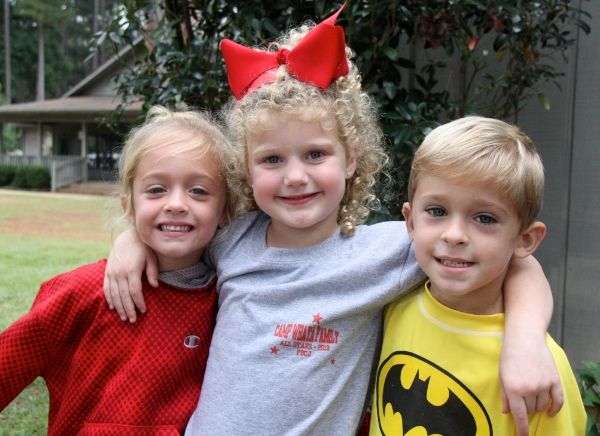 And here's our family photo. We've come a long way since our first visit to this retreat.
We had a great time. It gets better each year. SM had quite a bit of freedom this year. She loved it. She was very disappointed as Reagan loaded her bike into the back of the car and we started home. She is already looking forward to next year.