Each Fall the various women's groups in our church have a luncheon to celebrate the work each group does in support of local and foreign missions. Each group has an opportunity to decorate and host a table. We share lunch and listen to a guest speaker. This year our speaker is a former prisoner from Arkansas. She shared her testimony and how God has used her circumstances to minister to so many in the prison system.
Here are a few of the tables I took photos of from the day.
This table was hosted by our International Friend-to-Friend Ministry. (These are the ladies that I share my Thursday mornings with as I try to teach them a little English, as they try to understand my Southern drawl.)
Here I am with a few of the ladies from Thursday's classes. These ladies are not in my class, but they are precious, faithful members of our international ministry. The lady standing next to me is from Russia and is married to the Chinese pastor to the church our church hosts on Sundays in our chapel. They are a very multi-cultural family.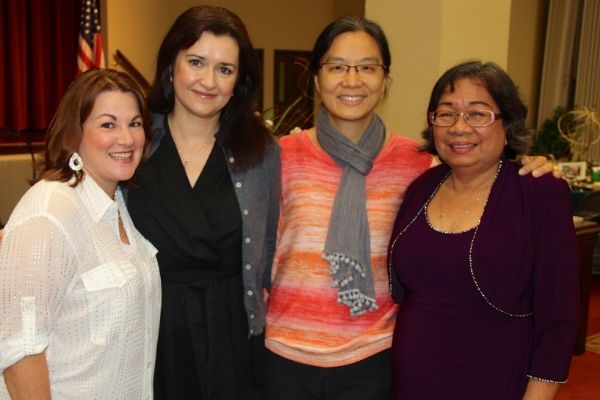 This is a table decorated to represent African missions.
This table represents our student ministry. It was decorated by Mallory who is married to our nephew, Mitch. She also happens to be the associate student minister at our church.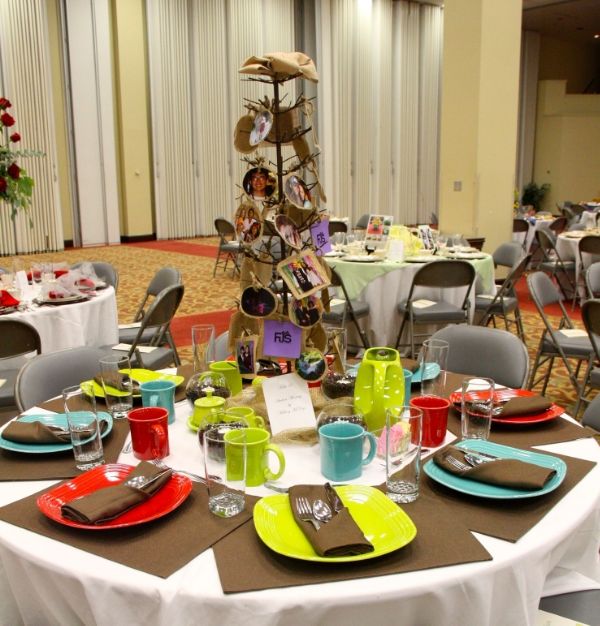 This is the table for the consignment sale team that I'm blessed to be part of, Little Feet Consignment Sale. (Check us out at www.littlefeetconsignment.org.) I had the privilege of helping decorate this table and we were all pleased with how it turned out.
We used the smocks that we wear during the sale. They served as great chair covers, as well as a way to show which ministry the table represented. They were also what I used to determine our color scheme.
We used a lot of crystal. I think it is elegant and works well with so much.
I found a photo of an arrangement I liked on Pinterest. I asked the ladies on our team if anyone would like to take a shot at recreating it. One of the precious team members said she'd do it, and I think it turned out fabulous. I love the hydrangeas.
Our Executive Pastor and his wife hosted us for dinner a couple weeks after our last sale. She served us a delicious meal on these plates with scripture on them. We all loved the plates and asked if we could use them for our Celebration table. She was so sweet to let us use them. And the black and white looked great with the green we used.
Here's another picture of the centerpiece. I just loved it.
Here's the team members who attended the luncheon right before our meal.
I snatched this next photo from my friend (Kandy's) Facebook. The men of our church serve us during the luncheon. We are so blessed.
And here I am with a precious group of women that I adore. I wish our whole team could have been there. (One other team member, Mallory, was there, but was not near our table when we took this picture.) I am so thankful that God allows me to know these ladies and serve with them through this ministry that is able to give money to various foreign and local mission projects.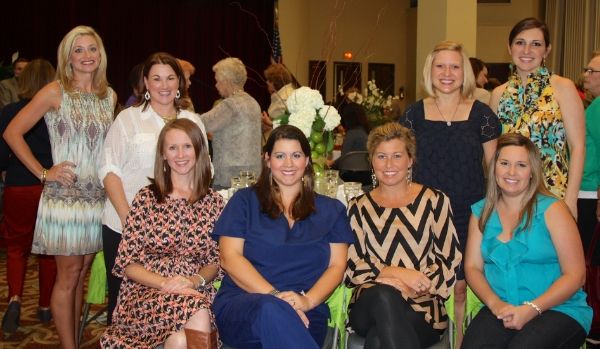 I always enjoy events like this. I look forward to next Fall and another Celebration.