Sara Madalin announced to me this morning that she has decided when she grows up that she's going to be an animal explorer. She's going to care for animals in the wild and she said she's going to carry her own anti-venom in case she is bitten by a snake. She saw on a documentary that there is only one place in the world for anti-venom for some snake, so she's decided that she needs to carry anti-venom where ever she goes when she becomes a wild animal doctor/explorer. Bless her.
She has started her career here at home. This past weekend, while outside helping Reagan clean up the yard, they caught a lizard. She played with that lizard for close to an hour.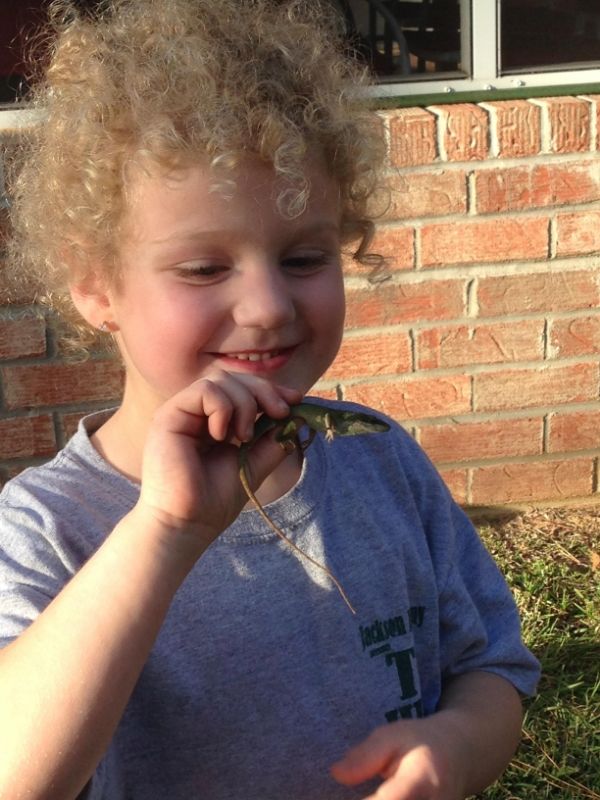 She's also been liberating ladybugs around the house. I'm not sure if anyone else has this problem, but here in the South ladybugs take over about this time of the year. They get in homes and everyone tries to sweep them off the ceilings before they take over completely. Well, our girl has had her Daddy help her catch them so she can release them back outside. Why is she so eager to release them rather than sweep or vacuum them up and get rid of them? Because, as she told me, "They have to be released so they can eat the aphids."
First, I haven't a clue what an aphids is. Second, bless her heart, I love her.