Guess what one of my New Year's resolutions is. If you guessed catching up on this blog, you'd be correct.
Rather than spend the next week making several blog posts to catch up, I'm just going to hit a few highlights from the last month, and call it good. Hopefully, I can make time to keep up blogging better than I did during the last portion of the past year.
In keeping with our tradition of visiting Canton, MS to see their light display around the courthouse square, we attended their Christmas festival early in December. Our friends, the Whites are home on furlough from Guatemala, so we all went together. Here I am with my friend, Regina. We kind of like to take pictures of our people, as you might be aware if you have read my blog for any amount of time. We also like to laugh, which makes our friendship work well.
This year there was a light and character parade twice a night. We were in the lobby of the hotel when the characters came out to get ready for the parade. Our little people were excited to see the characters.
Our traditional family photo in the lobby of the Trolio Hotel. Reagan and I have taken a picture here every Christmas since the Christmas before Sara Madalin was born.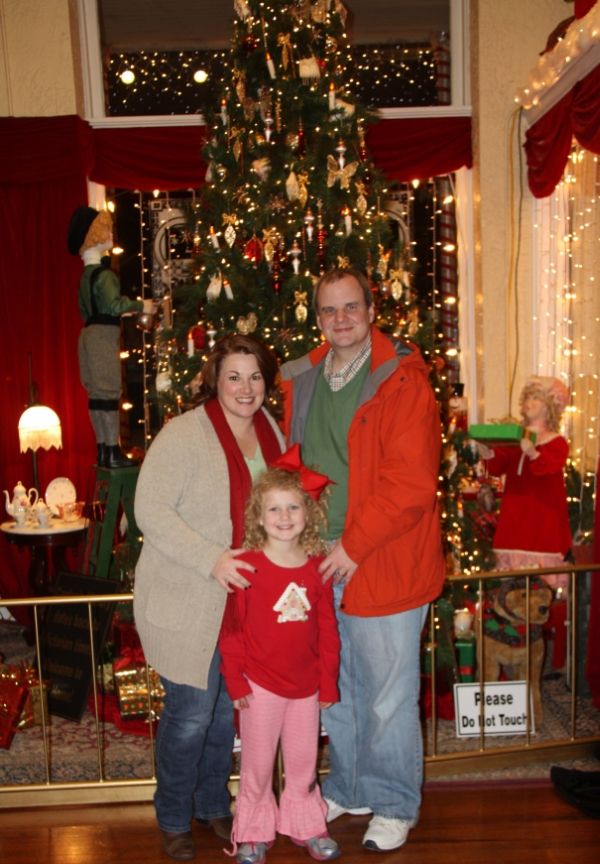 Our crew outside on the square waiting for the parade to begin. Trust me, everyone knew we were there.
Cruz and SM waiting for the parade to begin.
After the parade, we rode the firetruck around the square. It only took us about 15 tries to get this picture. The people riding with us were not happy with us.
Our own very special tour guide, Jana, joined us after the parade was over. We love her.
Also, that same weekend, Sara Madalin had her very first piano recital. She's been taking lessons since September. She did a great job and we were so proud of her.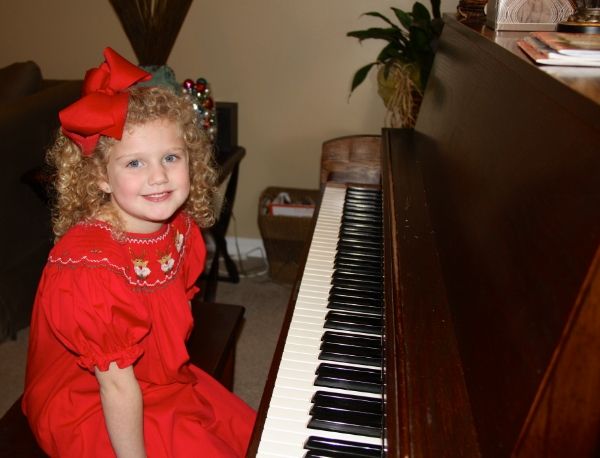 The second week of December Sara Madalin's class presented their Christmas program. Sara Madalin was very excited about playing the part of Mary during the program. During the program, she kept looking down at the baby doll in the cradle. It was so sweet. It was if she was really looking down at a real baby and she wanted to make sure he was ok.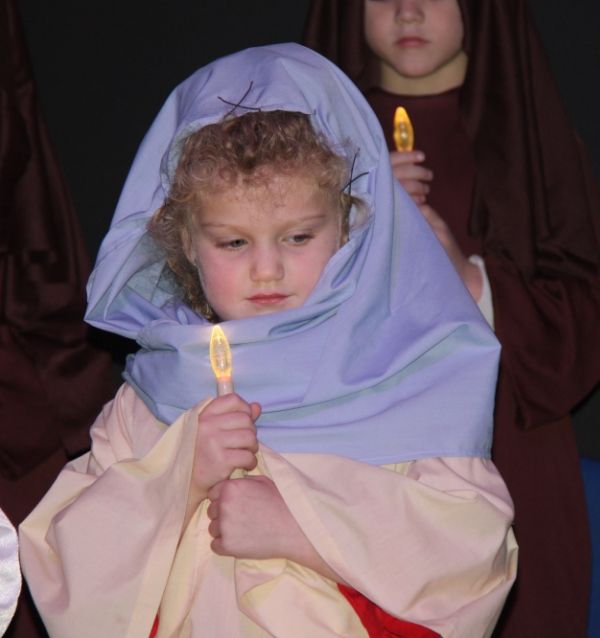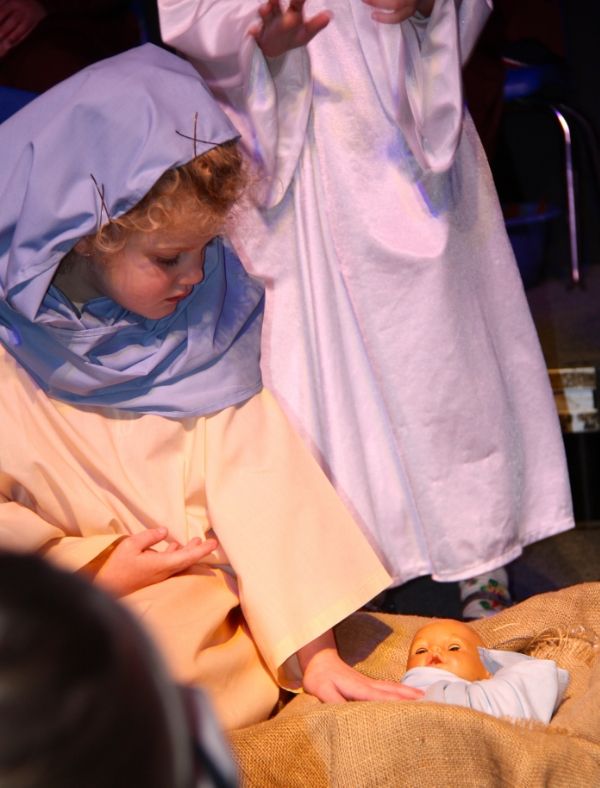 After the Christmas story portion of the program, they did a few other non-traditional songs. One was "Hip Hop Reindeer." It was so cute. They wore sunglasses and ski hats and rapped the song.
Sara Madalin had a big fan club in attendance to watch her program. Mrs. Kandy, our church's preschool minister came to see her.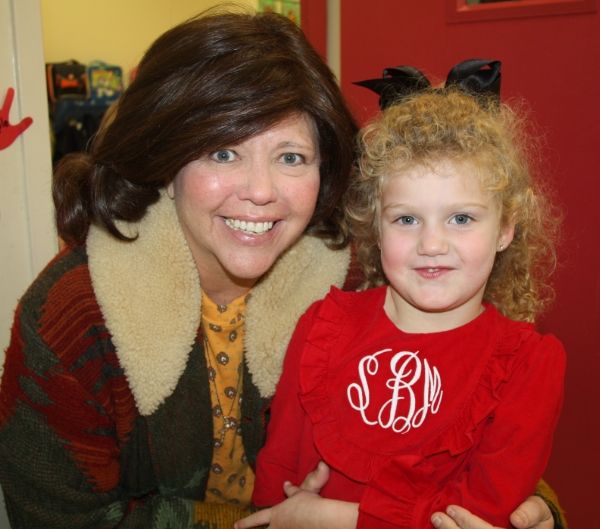 B. B. was there.
And of course, SueSue was there.
She did a wonderful job and we were so very proud of her.
Before we left, I took a picture of her with her best friend, who also happened to play Joseph in the program, Shelby. She has a bit of a crush on him.
The Saturday before Christmas my family came to our house to celebrate Christmas. It was loud.
My sister and brother-in-law thought they would be funny with their gift to Sara Madalin. They gave her a half-dozen box of Krispy Kreme doughnuts. She never gets to eat them. When she took the wrapping paper off the box, she held it to her nose and just inhaled deeply.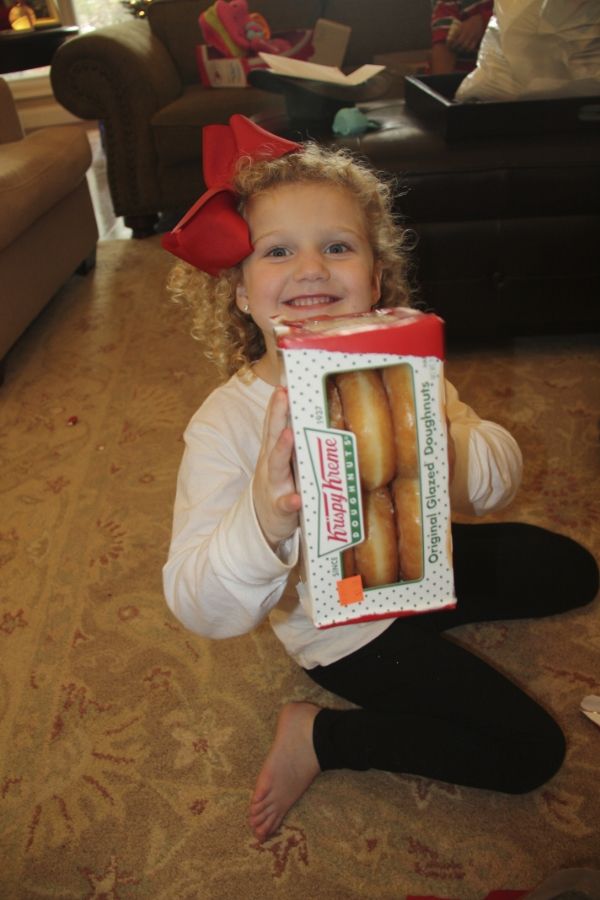 It was really warm outside, so the kids spent most of the day outside playing. Sara Madalin rode her little cousin, Amandah around on the 4-wheeler.
Christmas Eve we went to Susan's for chili and to make cookies for Santa. We headed home after dinner and got Miss Thing in the bed so Santa could bring gifts. Before going to bed, I made my people pose in their Christmas PJs for a picture. Reagan was really excited about that.
Sara Madalin also got a few minutes of play in with her remote control snake too before bed.
She actually slept until around 7:00 Christmas morning. When she finally came into our room, she was smiling and clearly had already had a look under the tree. She said, "Mommy! Come see! There's a piano keyboard in there!"
Santa brought her a cash register (the only thing she asked him for), her piano keyboard, and a microscope. We gave her a Baby Alive, some books, and some games. Oh, and some bugs. She was pretty excited about the bugs.
We also gave her a Lil Accent uniform to wear during an upcoming performance at school.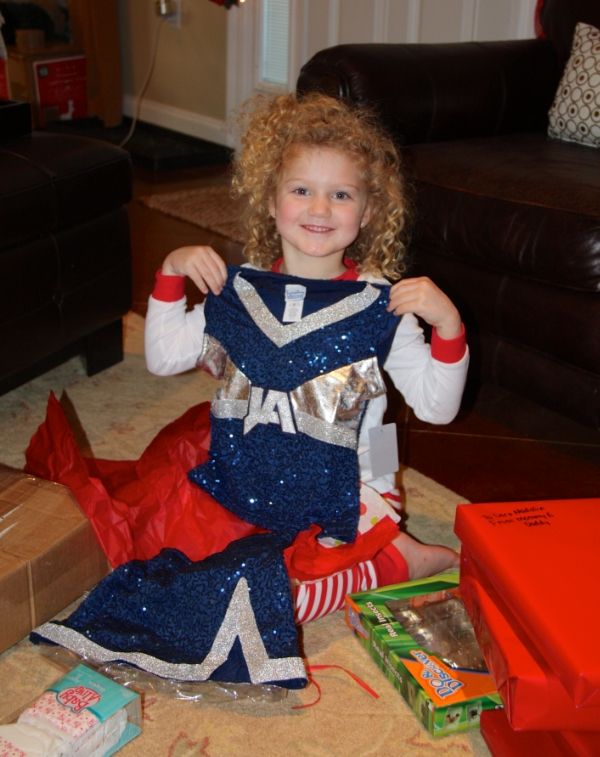 Have I ever mentioned how much this kid loves bugs?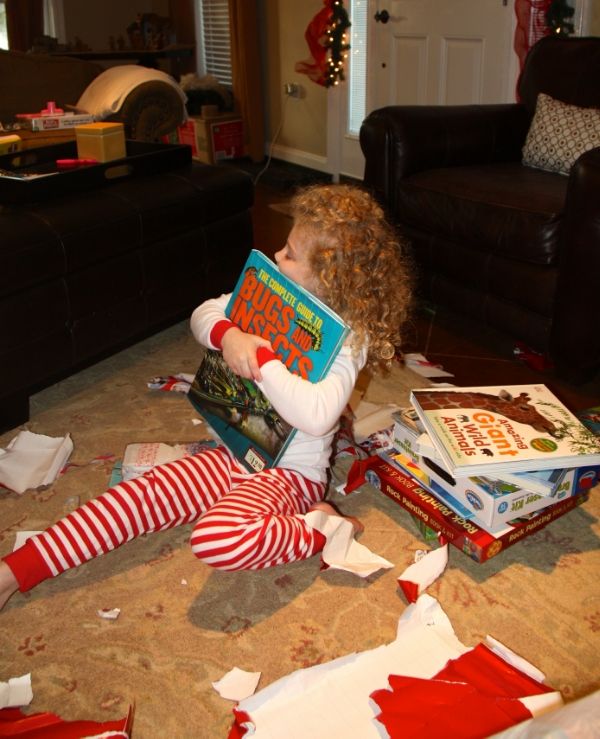 We've spent most of the last two weeks at home. She wants to play and I want to rest. It's working well for us. Although, we are both quickly getting ready for school to start again. One of us more so than the other.