This past weekend we had a weekend get-away with our friends the Whites who serve as IMB Missionaries to Guatemala. They are home on an end-of-term furlough. When we were discussing doing something while they were home, I suggested Disney. That idea was thrown out pretty quickly. I think it had something to do with carrying three children under 6-years-old and not being able to really enjoy ourselves for having to herd wild kids the whole time we're there.
So, we decided to go to the beach for a few days. Turns out, we chose one of the coldest weekends of the past few months, but we enjoyed ourselves anyway.
We arrived in time for dinner Thursday night. We ate dinner at a restaurant across from our condo. It was our families and a few groups of SnowBirds. We were by far the liveliest group there. Between Cruz climbing on the door handle, Sara Madalin turning cartwheels down the aisle, and Ben running around in circles, it was a lovely, relaxing dinner.
Once we got them all to bed, Reagan ran to the store while Regina, David, and I settled in. We ended the night with a quick game of cards and stories of our wild kids.
We've known each other since the days we were all dating. We all got engaged and married within months of each other. We served in various areas of the church together as young newlyweds. We were very close friends during the first years of marriage. We watched everyone around us begin families while we waited and waited for God to give us children. We spent countless nights together talking until all hours of the night. When Reagan and David served as young deacons together, Regina and I learned to rely on each other for encouragement and support. We've traveled many times together - to the beach, on missionary trips, on church-related functions. We've been separated by distance and circumstances, but there's nothing like getting together with people that really get you. And we get each other. We laugh with and at each other. Reagan and I are thankful for friends like them. I hope they feel the same.
Saturday morning we all got up and got dressed for pictures on the beach. It was cloudy and cold, one of us was DETERMINED to get some pictures. And by someone, I mean Regina. I'm glad we did it though. We had several good pictures. Here's one of our little family.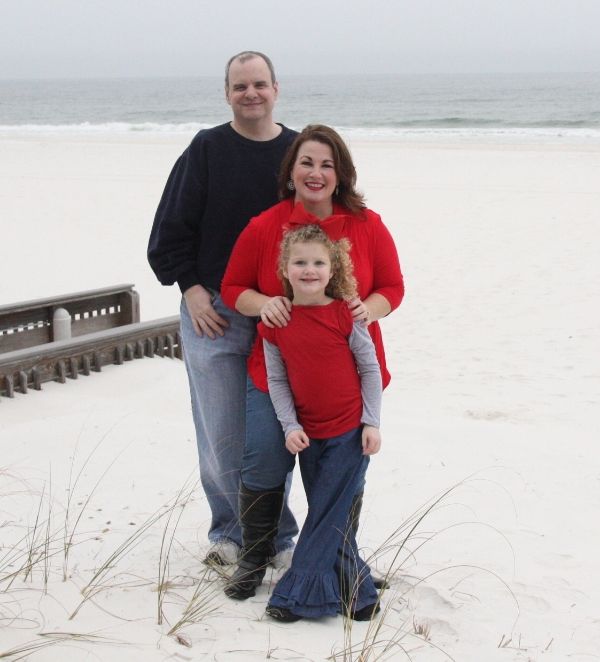 My sweet baby girl.
She had so much fun with Ben and Cruz. And being the biggest kid, she got to be the boss. She had fun playing with the boys and misses them already.
Here's a picture of us while down on the beach.
The rest of the day was spent at the indoor heated pool, and taking a nap. Later that evening, Reagan cooked us all dinner. That's the way I like to spend a vacation, letting someone else cook.
After dinner, David cleaned. I joke with him that cleaning is his spiritual gift. When he served on our church staff, he was constantly cleaning out closets, Sunday school classrooms, cabinets. Where there was clutter, David could be counted on to clean it out.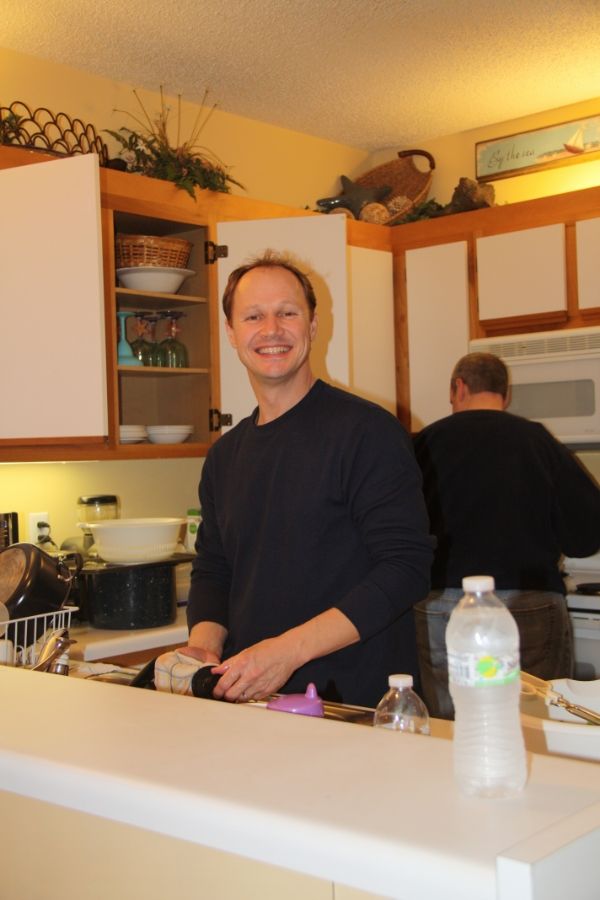 After dinner we put the kids to bed and then played cards, ate chocolate cake, and talked until midnight. We were so tired, but it was fun.
Saturday we all ate pancakes at The Pancake House then went to the nearby outlet mall. We were only there for a short time, then had lunch. It was nap time again, then more playing in the pool. We stayed in Saturday night and the kids went to bed relatively early, while we stayed up talking again.
Sunday morning was beautiful. The kids spent some time on the balcony playing, then it was time to pack up and go home. These two were not happy. They were both crying about having to leave the beach. Bless them.
Once we loaded everything in our cars to go home, we went back out to the beach for one last photo shoot. Here is Sara Madalin with her daddy. She's got him wrapped around her little finger.
We left and headed home, stopping in Mobile for lunch. We had a great weekend and are so thankful for the time away with our friends.