I think what I'm going to do to catch up on my blogging is to just pick up with posts about what is currently happening in our lives, then recap as I find time so that I still have a record of events from the past few months. Maybe one day I'll record it all.
Last night Sara Madalin and I attended a fundraising event at her school. It was a 5k and One Mile Fun Run to raise money for a former security guard, Mr. Joseph C.
From the very first week of SM's K3 year, he was one of the friendliest, most welcoming people I met. His smile and interest in me and my child helped me begin to feel safe and secure leaving her there each day. He was the one responsible for locking the gate outside the K3 building each morning after drop off. He opened the gate when it was time for pick up in the afternoons. And between those two times, he could be found either at the main entrance station leading into school campus, or walking around the school, talking and making sure he kept an eye on things going on. He was always so friendly to us and all the kids loved him. I looked back and found a picture of Sara Madalin with him just a few weeks after she began attending preschool in 2011. This is at one of her first football games.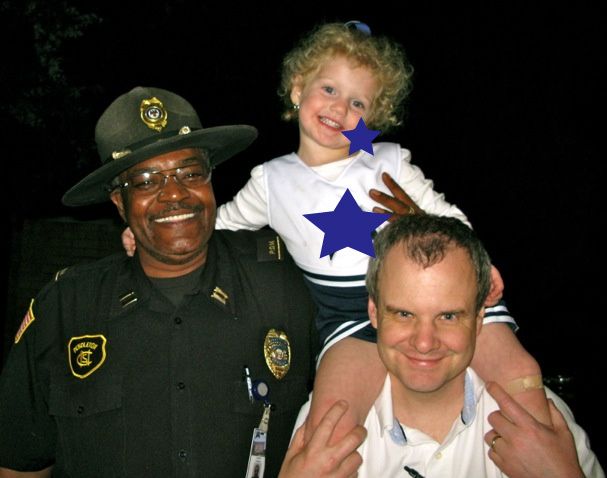 Earlier this school year, Mr. Joseph had to step aside from his job at JA. His doctors discovered that his body was falling victim to cancer that he has battled for several years. Students on campus began to initiate and lead support projects for Mr. Joseph and his family. One afternoon before Christmas, many students and their families visited him in his home and sang for him and prayed for him. There have been meals provided by families who love him, and there have been cards sent as encouragement to him as he battles this illness.
A few weeks ago, information was sent out regarding a 5k and One Mile Fun Run fundraiser to be held on campus for him. I had already decided SM and I would participate, but evidently some of her friends began to discuss it at school, because I've heard about it everyday for at least the past two weeks. "How many more days until 'Jogging for Joseph' Mommy? What will I wear? How long is a mile? Lillian is going to be there Mommy." She was so excited.
So, when we arrived Tuesday evening, she began to look for her friends. The first person we saw was her sweet friend, Elizabeth. She is one of the sweetest, most polite children I have ever met. I love that Sara Madalin has had such sweet friends this school year.
Next we found Lillian. (Thank goodness.) Once she found Lillian, I was no longer on her mind. Oh, she looked around every now and then to make sure I hadn't left her, but she was in no way concerned with my well being or presence apart from her needing to be sure she had a ride home.
Soon it was time to make our way to the starting spot for our one mile run. By this time, she and her gang were holding hands (so sweet) and were ready to conquer a mile.
(And on Wednesdays, they wear pink.)
Right before the starting shot was sounded, I tried to get her attention. She was several people ahead of me with her group of friends. I called her name and just before the gun fired, she looked at me. I didn't have time to shout for her to cover her ears. It scared her. Poor thing. I thought she was going to cry. But she didn't have time to because her friends, whose hands she was still holding, began to run. (She wasn't the only one frightened by the sound of the gun. I heard and saw several small children begin to cry. I heard one little boy say, "I don't wanna run! I don't wanna do it." Bless it.)
Now, I'm not sure what Sara Madalin thought she was signing up for, but clearly she realized within about 10 steps she'd made a mistake. She'd had me drive and measure a mile earlier Tuesday evening to show her how far it was. And, being that we were driving in the car, it didn't seem that far. She felt pretty confident that she could handle the run. No, it turns out, she could not.
As I said, about 10 steps (or maybe 20, I wasn't really counting) into the run she dropped back from her friends and began walking. She then began to look to me. I was right behind her. She said to me, "I'm hot. How much longer is it? My legs hurt."
She gets her athleticism from her father.
Then she remembered her friends and asked where they were. I told her they were ahead of us and the only way we could catch them was to run. So, for the next however long it took her to complete the race, she'd jog a few steps, then walk and complain. And I do have to admit, it was hot as Hades out there and much of the first half mile was up hill. But she's 5-years-old! She should be able to run 3 miles without stopping. Heavens knows she has the energy to. By the time we were about a block from the finish line she was behind me, holding onto the hem of my shirt and letting me do all the work.
We finally finished the run, got a necklace and a nice COLD bottle of water. Here I am with my future triathlete after her first one mile run.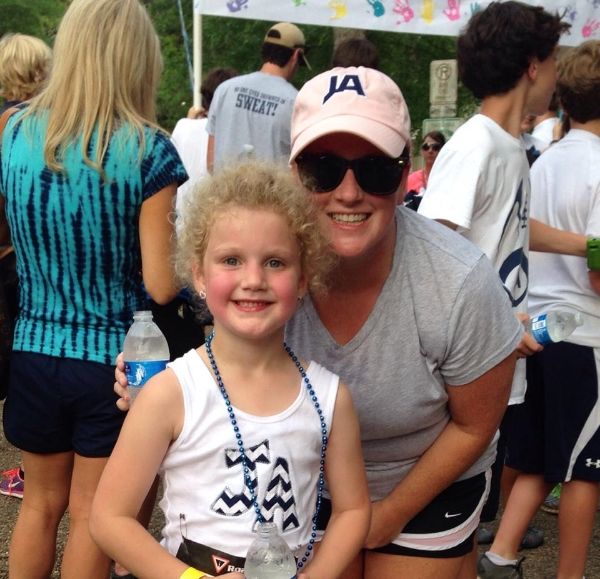 Once our run was over, we went to grab a banana flavored SnoCone and play with her friends in the sweltering, humid MS heat. She behaved well and didn't fuss when I told her it was time to go home. I was proud of her and I loved that she got to be part of such a wonderful event for a man that has made such a difference in her young life and the lives of so many children at her school.